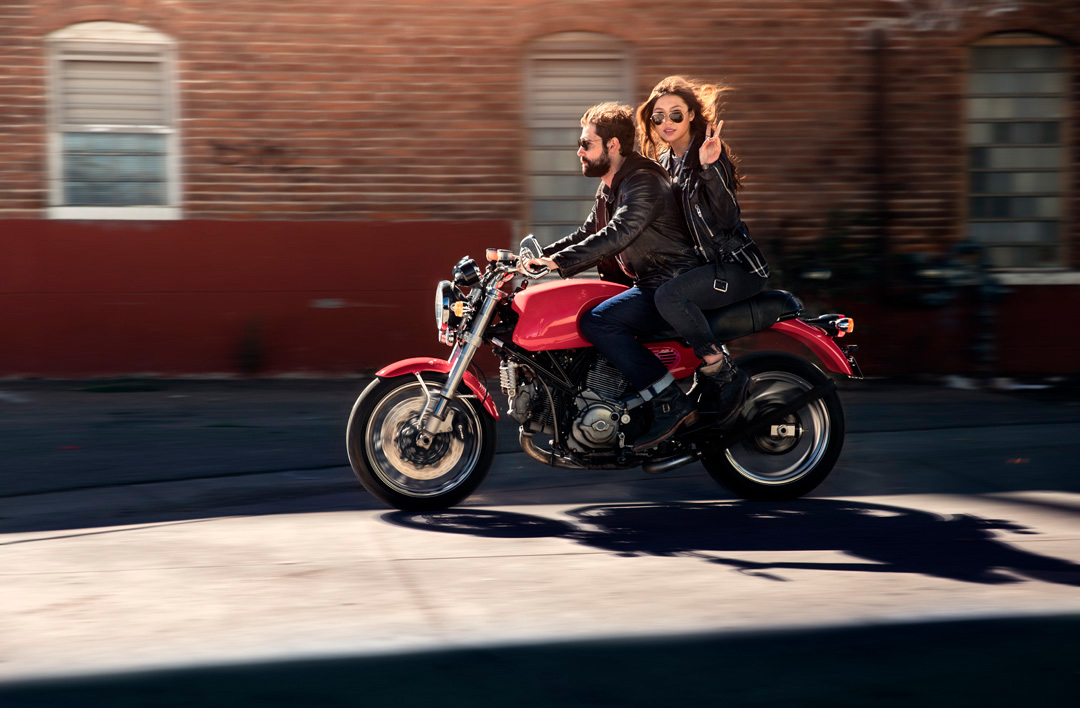 I am a big believer that we only grow as artists if we are willing to push ourselves. For me, this recent campaign with the new Canon EOS R was just that – the challenge of using a new camera system in a fast-moving fashion shoot.
Canon approached me with the goal of putting the new EOS R mirrorless system to the test. I wanted to craft a high-end fashion shoot to test the features, from the new RF lenses to the Eye Focus system, and Canon was all for it, so I set out and assembled the best team I could find.
When crafting a national level shoot for any client, I want to make sure shoot day is as efficient as possible and cost-effective. This is often where having an amazing producer can make a world of difference. Initially, I will have the producer scout locations if I can't. They will provide images and logistical info which I will use to make my decision. Since we would be changing several locations in the heart of a large urban city, we had to dial every aspect in, all the way down to the traffic patterns. I used Google Earth to check the sun angle for the locations we selected, then used that information to build a timeline for the shoot. I then had our producer drive location to location at the times we would be traveling to make sure we could move around the city in a timely manner. When shoot day came, we knew down to the minute when we had to be where to make the most of the crew's time.
We spent a lot of pre-production time looking at images of motorcycles and the fashion behind all types of motorcycle culture. We dug deep into Herb Ritz's work to find some extremely interesting images of mechanics and explored the music and film industry with images of Bruce Springsteen and James Dean. I wanted to combine classic styling, timelessness and a modern edge for this shoot, which was not easy.
Often a client will come to me with a mood board and I will craft a shoot around their specific needs with input from their creative team. This was not the case here and Canon really let me run with this shoot. With that being said, the team and I worked really hard to maintain a consistent style and feel for these images. It required a lot of attention to detail from the team and we all had to be committed to achieving the highest standards for the shoot overall.
The models' attitudes are a huge part of this as well and that often requires direction on my behalf. I find that one of the most understated aspects of any lifestyle shoot is an honest connection between the photographer and models and that is one of the things I strive for. There is no formula for this aspect of the shoot. It's a gut feeling that comes from years of shooting and directing, but once you figure it out it becomes an absolutely necessary part of the workflow. For this shoot specifically, I tried to let the two models tell me as much as they felt comfortable about their lives and tried to find common ground between the three of us. Then, while we were executing the scenes, I tried my best to portray the edgy vibe I wanted them to give off.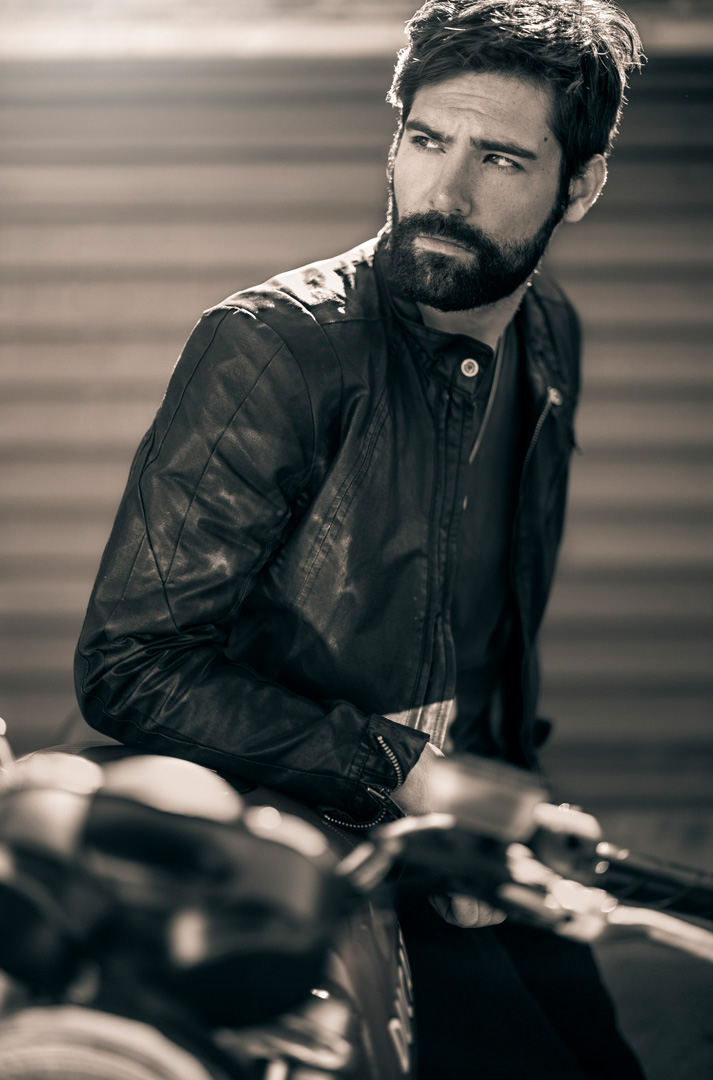 As part of creating the edgy urban look for this fashion project, I scouted for locations that would have dramatic light and shadow. I really didn't want to shoot any "safe" scenes in terms of lighting — I find that the most compelling images have dynamic tonal ranges. I don't always succeed in this type of lighting, to be clear! Even though I have been shooting for decades, it is a constant challenge to capture heavily backlit images, particularly when the talent are wearing dark leather jackets etc! I feel like I am often coming up short, and even failing, with some scenes; but I prefer to risk failure now and then in return for the potential payback of a powerful and magical scene.
As an Explorer of Light, Canon relies on my honest feedback for new products, so I took my time getting to know the camera before the day of the shoot and also used this as an opportunity to dial in any of the new features I wanted to explore.
The face detection was one of them and is surprisingly good, even in heavy backlight and dimly lit scenes. I found that it performed very well in lifestyle scenes and portraiture; speaking unscientifically, I'd say the EOS R performed better than the AF system on the 5D Mark IV in these situations. Plus, with the huge focus range on the sensor, I found I could position my subject's face in the far corners of the frame and still have perfect focus. This worked really well when the model was walking back and forth, moving side to side, and turning her head, etc. I'd say this Face Detection AF system is a new breakthrough.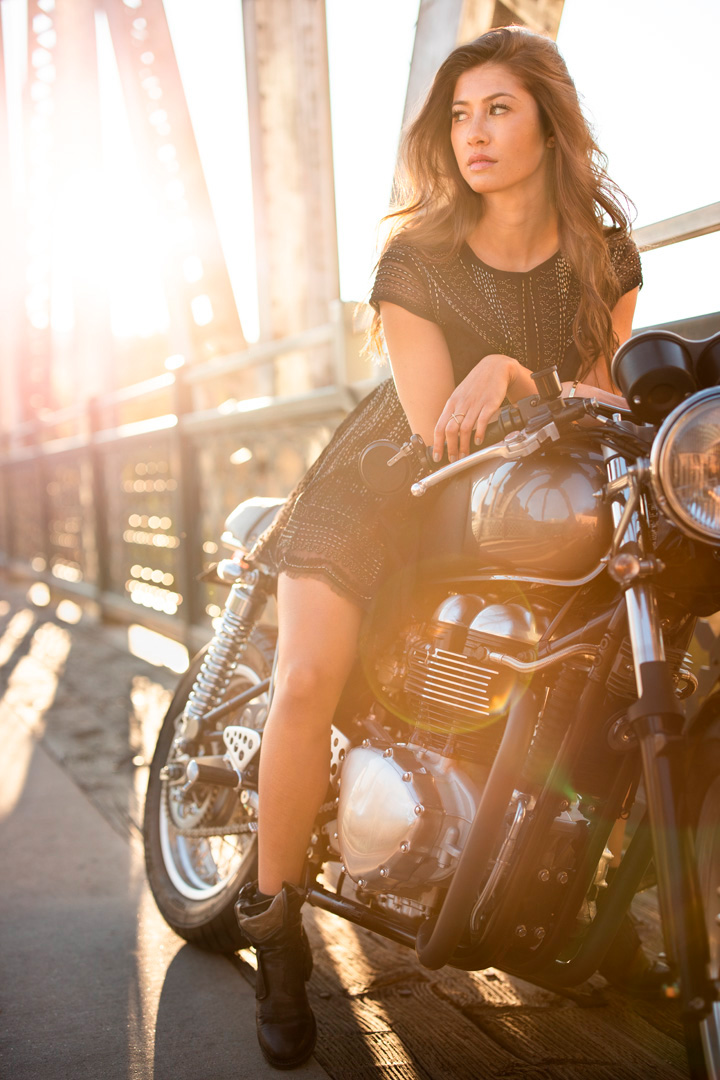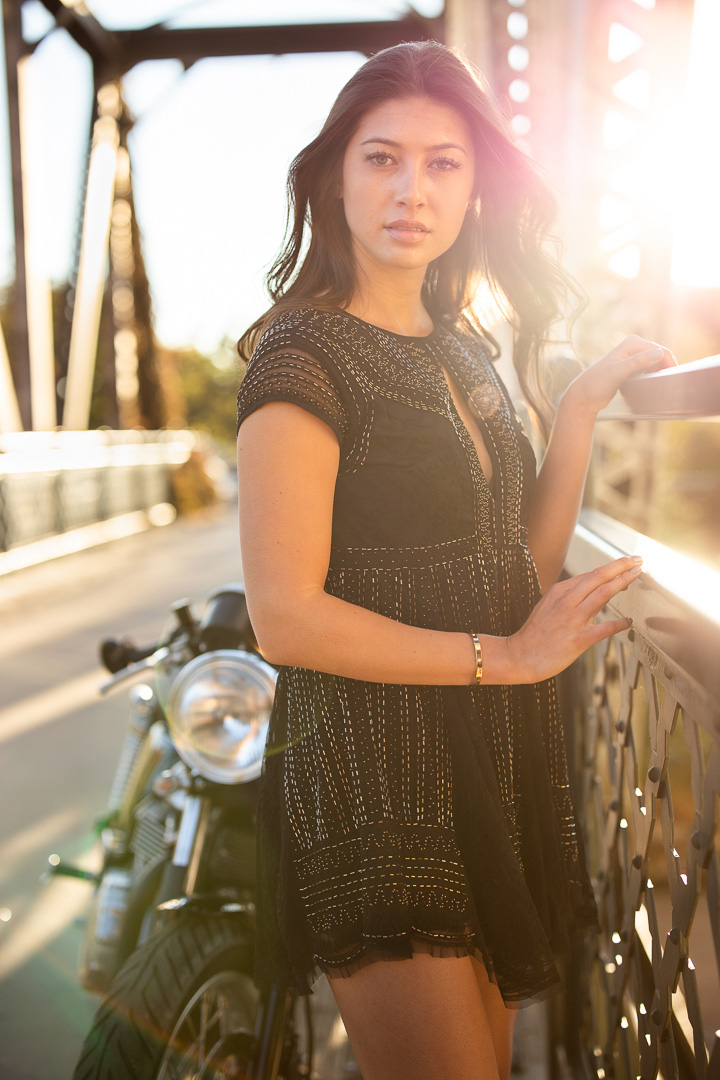 One of the disappointing aspects of this feature was that I could not select which specific eye the Eye Detect AF system would focus on. I.e. it would sometime vary on whether it grabbed onto the model's left or right eye. Most of the time this was not an issue at all as both of the model's eyes were in the same focus plane. But I could see a potential limitation occasionally.
Because this was a fashion and portraiture shoot, I tended to work with the 28-70 mm F2 L lens at the longer end of the zoom. I find portraiture is more flattering to model's faces at 50 to 70mm. That said, I wouldn't hesitate to use this lens at the wider settings anytime a scene called for it; this is truly the sharpest autofocus zoom lens I have ever used.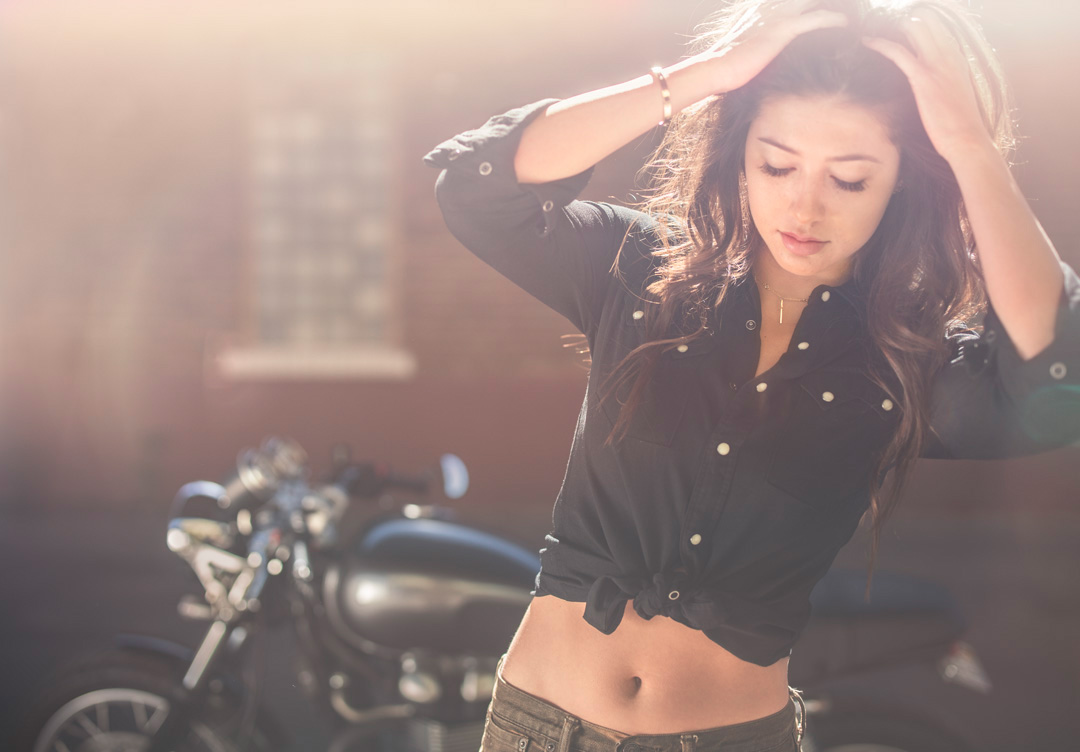 The RF 50mm F1.2L lens is also stunning! It is easily one of the best autofocus prime lenses I have ever used. It's perfectly crisp wide open, edge to edge. I can't think of a single thing to nitpick about it. Sure, it's heavy, but as with great cine lenses, that heavy glass is necessary to achieve uncompromising optics and faster apertures.
I was truly impressed with the RF lenses in terms of flare and ghosting. I shot some of the scenes with both RF and EF lenses on the EOS R. When I studied the final images, overall the RF lenses had less flare; and a more pleasing flare.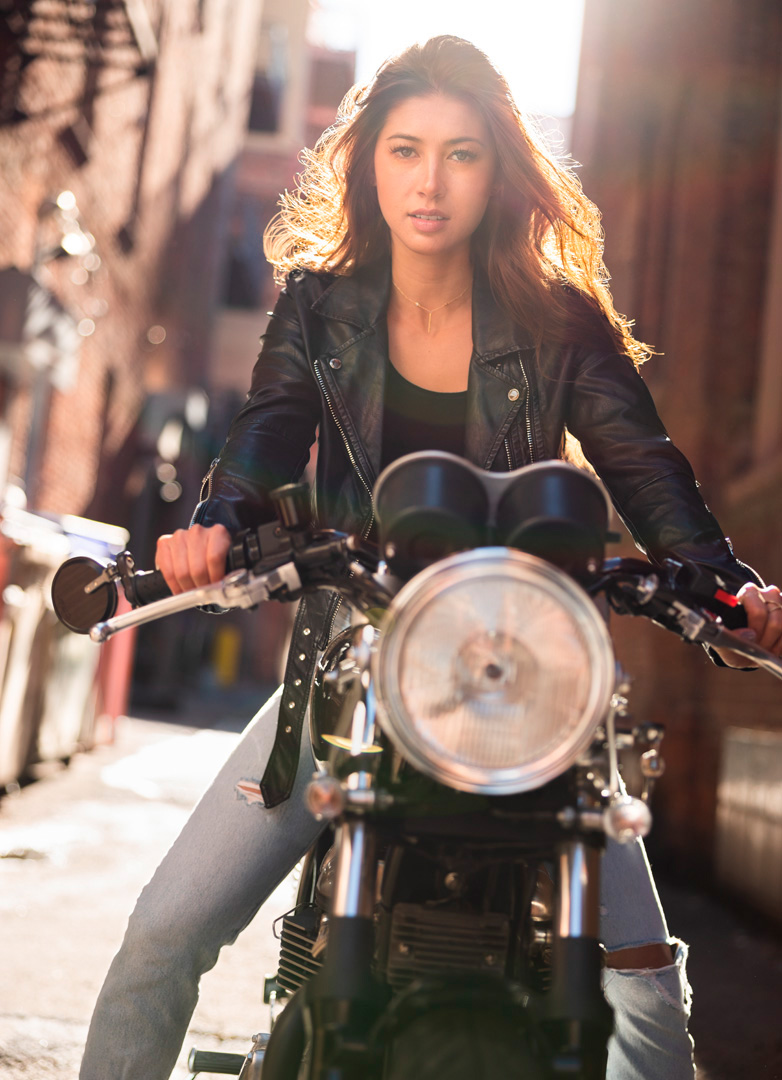 In my unscientific opinion, I would say the EOS R low-light capabilities are roughly similar to the 5D Mark IV. If I understand correctly, the EOS R uses the same sensor and a newer processor. Noise is definitely visible at ISO 3200 and above. Depending on your or your client's noise tolerance, I would suggest a max ISO of 1600 for commercial work.
I used Elinchrom strobes for about half of the daylight shots, and for the other half, I used a reflector. A reflector is much faster to use, and I can shoot at high frame rates; so I prefer to work with a reflector when possible. That said, the large, diffuse light source created from a pro studio strobe and a big softbox really creates a beautiful, soft fill light. Also, a strobe doesn't make the talent squint the way a reflector does.
If you wanted to work with Speedlites, I would suggest using the largest softbox/diffuser you can find; ideally, one where the Speedlite fires backward into the softbox reflector, as this will help create a softer light than if the strobe is firing directly through the diffusion fabric. Keep your softbox as close as possible to your talent; the light source will be larger and softer the closer you are—and you will need less power than if you are farther away.
Also, on the nighttime shots, I shot with the EOS R on a tripod for most of the scene. The best-looking sky happened just after sunset while there was still a bit of blue in it. But our best scenes with the talent occurred a few minutes later when the sky was mostly dark. So we composited the more blue sky into one of our favorite shots of the talent with the bike.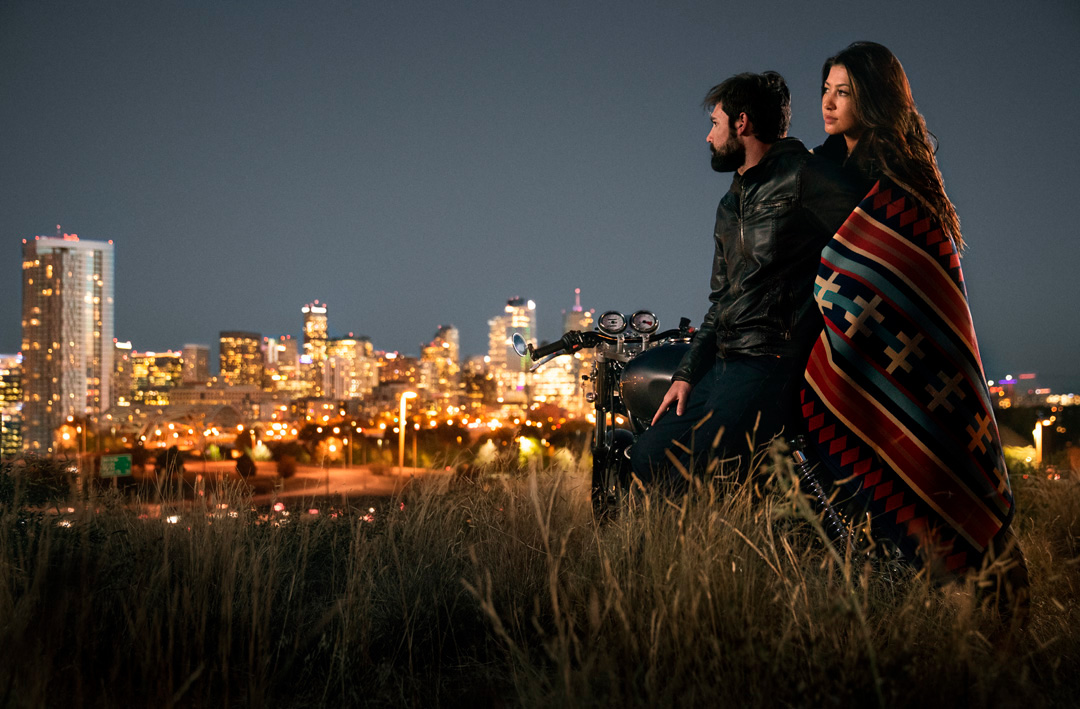 The Elinchrom ELB 1200 and ELB 400 strobes have high-speed sync capabilities that allow me to shoot up to 1/8000th of a second. This makes it easy to shoot at high shutter speeds while still using a large diffuser. Speedlites also have high-speed sync capabilities of course. I use the Elinchrom strobes over the Speedlites when I need to work with a very large softbox for a soft light source. I also used a bare Elinchrom strobe to create lens flare for some of the midday scenes; I positioned it just out of frame to the side of the talent, firing straight into the lens.
We processed the files with Adobe Lightroom. And yes, we put a lot of effort into processing the images. I always spend more time processing images than I do shooting! Sculpting the light and shadow is a big part of the look for my imagery, and it's a necessity when capturing heavily backlight scenes as we did on this Denver shoot.
In general, I liked the new EOS R camera! It will make a great addition to my production lineup and I will continue to use it for fashion and lifestyle shoots in the future.