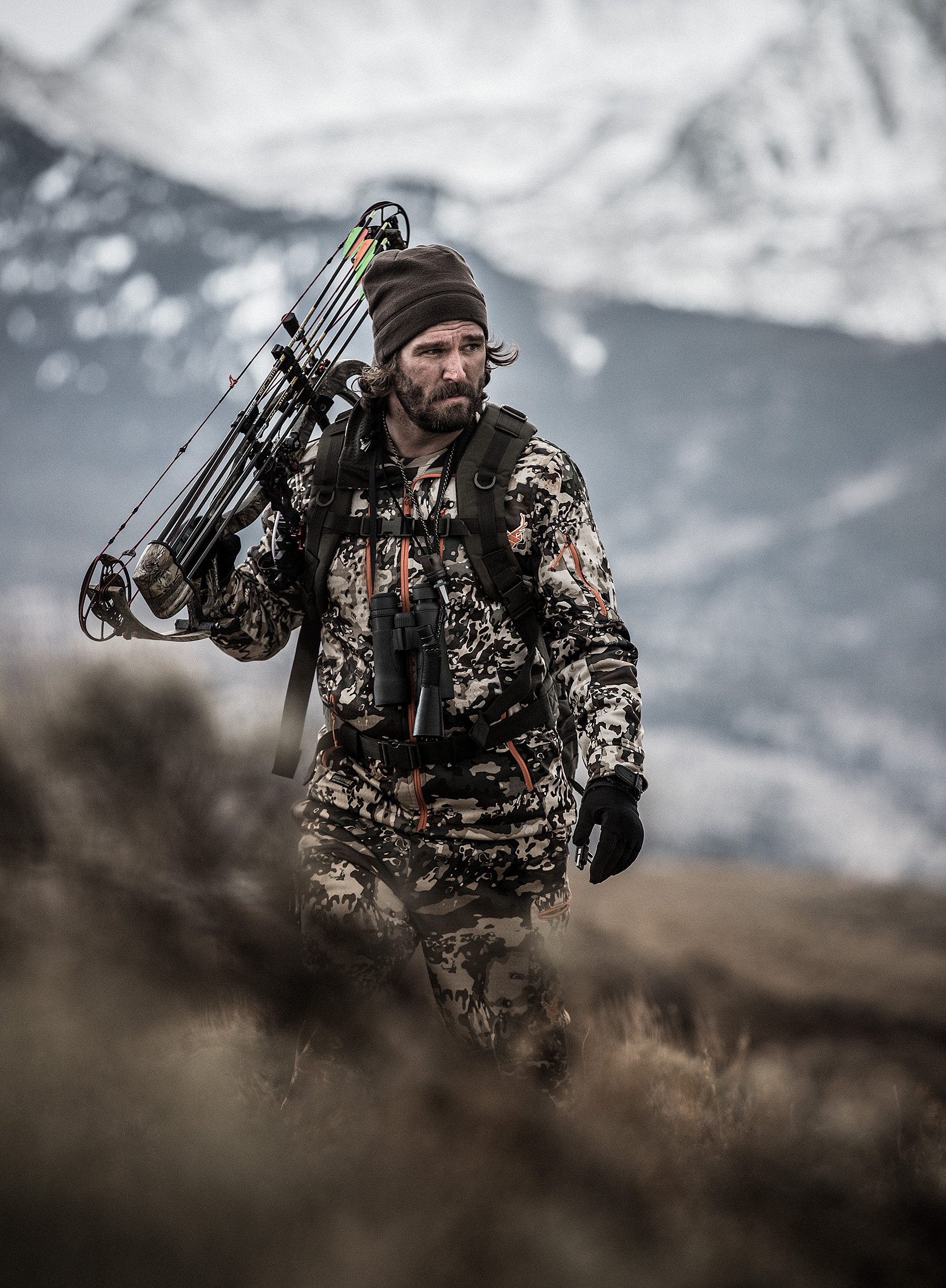 I am excited to share a new national photo campaign I photographed for Walls Pro hunting apparel. A division of the well-known Dickies workwear brand, the Walls brand provides avid outdoorsman with clothing that matches their most rugged endeavors. 
Bidding on this project was no-brainer for me as I have a long professional history with Art Society Global agency and am, myself, an avid bow-hunter. In fact, along with photography, backcountry travel and adventure sports have been my lifelong passion. So to create a campaign that highlighted the true nature of their expert-level product was the perfect marriage of my experience and professional skills.
Once they awarded me the contract, the creative agency and I began to craft a look for this photo campaign that was in part based on how I personally approach and would like to photograph big-game backcountry hunting. That is, to find a way to highlight the gritty, adventurous and often exhausting nature of such an extreme sport in a way that met the needs of a national client, but still captured the authentic feel of this kind of an activity which puts one on the edge of their comfort level, no matter how many years they have been doing it. I wanted every photo to bring out the truth of what I understand about the sport itself against the backdrop of the Rocky Mountains of Colorado.
One of the exciting moments in this photo campaign strategy came on a conference call when one of the creative directors asked, "What if we gave you the freedom to run on your own for a day. How would you shoot this campaign?"
By this point I had been thinking about the campaign details for a few days, strategizing on how to raise the bar for Walls yet again. I had scoped a few mountainous areas nearby that would be incredibly cinematic, and I had also worked with a model whom I knew would bring the perfect look. He was a fellow climber based in Squamish, B.C. who could easily keep pace with us in the rugged terrain; and he could hold his own while standing on rain-soaked cliff tops.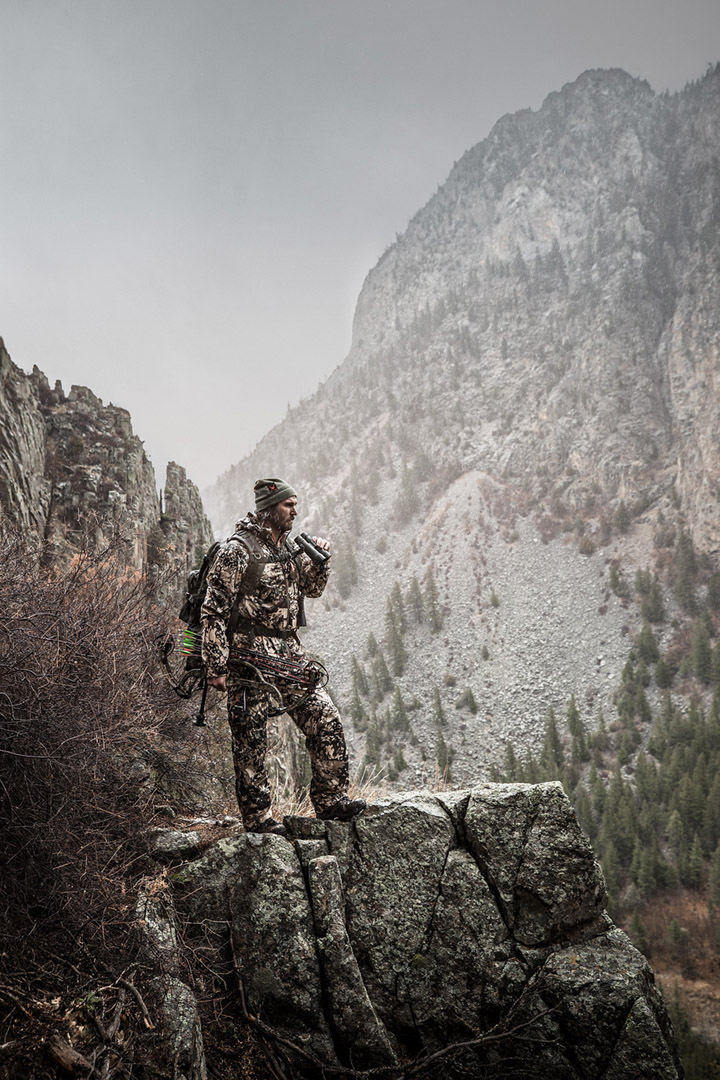 So I pitched an idea which I believed would allow me to meet these needs. I wanted to shoot a portion of the campaign exactly how I knew it should be done: light and fast in truly rugged terrain here in the Elk Mountains near Aspen, creating the feel of what hunters would experience.
"I want to shoot with Corey Wise, here in my backyard, off the beaten path," I said, crossing my fingers that they just might go for it.
As I mentioned before, I have worked for both Walls and their parent company Dickies on several other very successful national stills campaigns before. In fact, the industrial workwear commercial which I directed for them won a Telly award.
It was because of the trust this client had gained in me that they approved my ambitious plan to take this outdoor apparel photography campaign to the edge- quite literally.
We would shoot one day with a larger production closer to the road, with multiple talent, to cover a wide range of the new Walls Pro clothing line; your standard large-set professional photography site. But then we would shoot one day in the high mountains with a tiny crew, venturing where a larger production could not go. That was the opportunity I was really looking forward to- a truly unique and ambitious photo shoot in the rugged mountains I love to call home.
We shared mood boards in the weeks prior to the shoot and discussed the intricate details of the look for this new campaign. Again, we needed to be sure that these images were both compelling and versatile for print, poster and online formats, highlighting the intense conditions where this product line would be used. It's exciting when creative minds are firing, emailing photo comps and pushing each other to think beyond the norm — that's the process we shared prior to the shoot.
Scouting difficult terrain like this is, of course, essential to do before crew equipment and talent hike all the way up there. I had spent a day or two exploring and framing shots in my mind from specific landmarks. Each series of shots was composed to capture a different element needed by the client- the drama of a cliffside perch, the water-resistance and insulation needed for frozen mountain streams (and rain!), and the endurance, durability needed to cross the high plains.
I also am intimately familiar with these areas, being a local to the Roaring Fork Valley near Aspen, so my scouting days were very productive and allowed us to flow efficiently and safely between backdrops on the day of the actual shoot. Being a professional photographer who gets to spend time in the mountains I love is the part of my career that I love the most.
By the time the shoot came, we had agreed on a look and a photographic approach. We had a thorough shot list that would hit all of our client's branding needs for the year in multiple different contexts. Above all, the imagery needed to be authentic. So we shot here in Colorado's Elk Mountains. Check. The imagery also needed to be dramatic, compelling, and rugged. Shooting camouflage clothing on a stormy fall day can be an exercise in shooting shades of gray on gray — so we needed to choose locations where the mountains and scenery really stood out. These would be the canvases where we created our work.
So one day in the fall, I went out with just our talent, one assistant, and a hardy creative director to capture the look I knew this campaign needed. Not far from the small town of Redstone, Colorado, we scrambled up boulder fields and perched on cliff tops in the rain before dawn to take in the most dramatic scenery. After I felt like we had captured the images I needed from that angle, we waded through the icy Crystal river at midday for a few more frames and finally, our endurance pushed to the limit, we photographed through dusk in a blowing snowstorm. As the rough weather overtook the 14,000-foot peaks surrounding us, I knew this had been the right way to do it because it felt like a real day of hunting!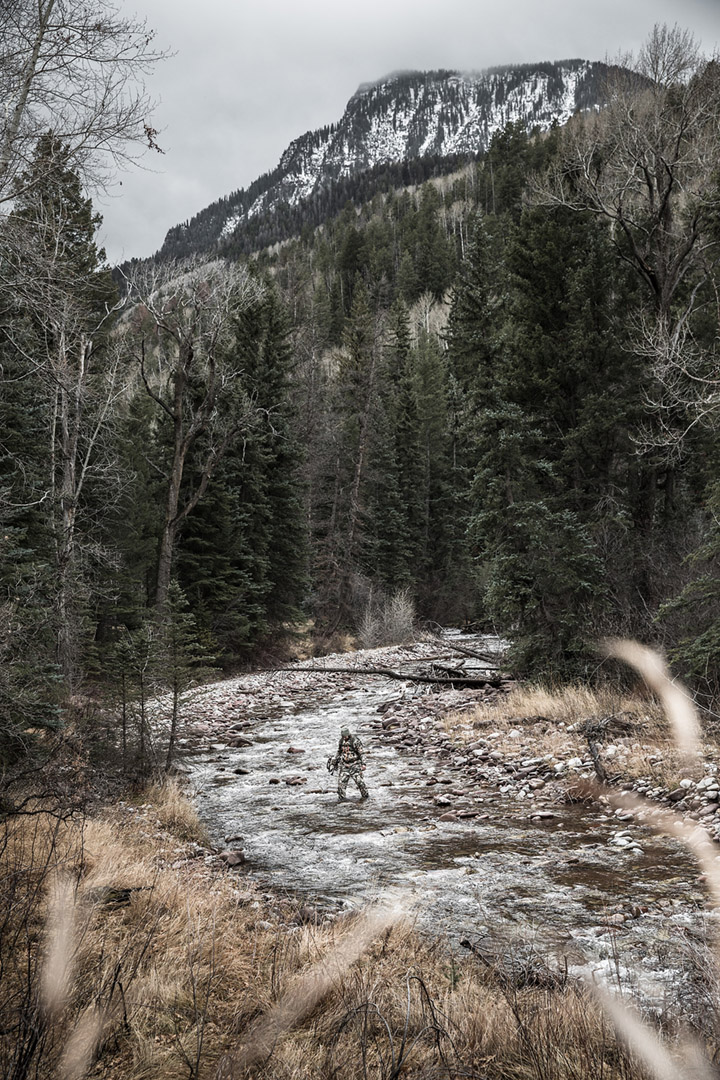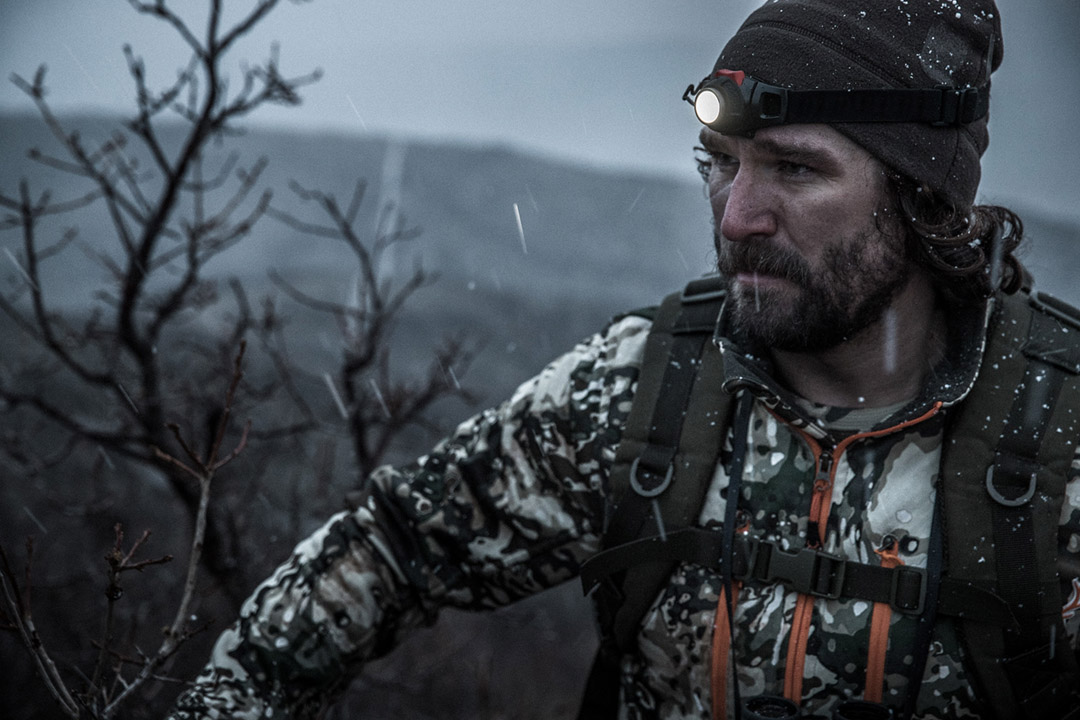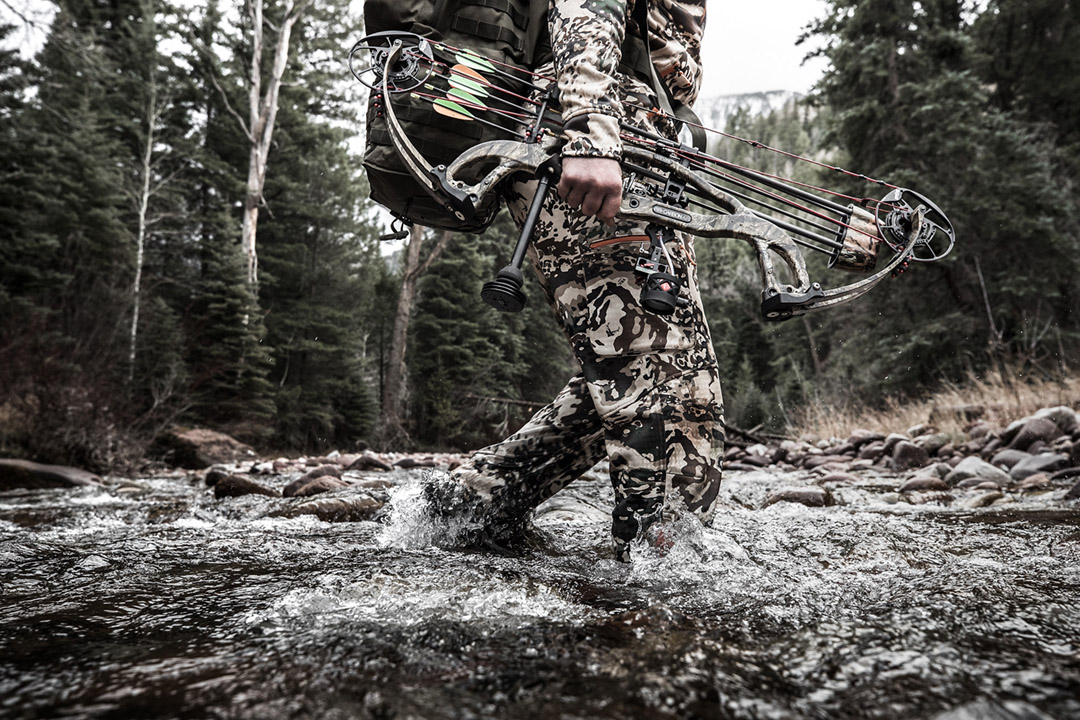 As I mentioned, I have been working with Walls clothing for over four years, directing national TV commercials and photographing their hunting and workwear campaigns. During that time I have learned the nuances of their brand positioning, and equally, the agency and client have gained a trust in my creative work — the relationship which provided the freedom to take on a fast-and-light shoot.
In today's world of infinitely versatile image technology, many campaigns use composite imagery-  Photoshopping models from studio backdrops into outdoor locations. In fact, there are times when I wonder if this has simply become the industry standard. We didn't want to do that, as it's not authentic to the Walls brand and it doesn't speak to real-deal hunters. The Pro product line was not going to be aimed at engaging the novice, and seasoned hunters can smell BS a mile away. With that fact firmly in mind, everything we photographed for this national photo campaign was with Corey, our long-suffering model, actually out in the hunting locations: on the cliff, in the stream and running through the high country sagebrush. The weather cooperated with us, giving us a stormy, overcast day which helped to create just the right feel.
It was a creative challenge to take a material meant to blend in with the background and make it stand out. And as an artistic director, I also wanted to be sure the drama created in each shot was highlighting the model and the hunting apparel, and not just the incredible background. Lighting is key to this (as well as post-production, but more on that next). Drawing the eye to the focal point of the model instead of the scenery, while still capturing the rugged nature of our surroundings to create the right narrative was my goal with every shot.
After decades of experience in outdoor adventure photography, I am very particular about my 'light and fast' tools. When photographing adventure sports like rock-climbing, ice climbing, mountain biking or trail running, I need to be able to rely on just one or two cameras and no more than four lenses and this adventurous shoot was no different. In addition to the cameras, on the day of the Walls Hunting Pro project, I carried a bare-bones lighting kit, carried by my long-suffering creative director, including the Elinchrom ELB400 and LiteMotiv Indirect Modifiers. 
First on my list of necessary gear is the Canon 1DX Mark II, which is definitely my go-to camera. For as well built and rugged as this camera is, it is surprisingly nimble and adaptable. Since I am often in situations where my team and I need to work quickly, the ability to work with such a powerful yet compact setup is invaluable in a photo campaign such as this one.
I am also a firm believer in the adaptability and quality of Canon zoom lenses such as the 16-35 f/2.8 III and the 24-70 f/2.8 II. Both of these lenses make working quickly in rough terrain easy and provide the durability and weather sealing necessary to continue operating at the highest level when the weather turns.
Another big part of shooting a national photo campaign is establishing a look in the post-production process. Whether we are editing a TV commercial or a stills campaign, setting the color grade is one of the most creative parts of the entire process. And processing images of camouflage clothing is even more nuanced: We want the clothing to blend in with the environment, of course, as that's the point … and yet the talent and the image itself need to somehow stand out and grab the viewer's attention!
Sometimes the images feel like a Where's Waldo exercise, where Corey with his bow-hunting gear and the Walls Pro clothing blend right into the background. Other times, we photographed rifle-hunting scenarios with blaze orange safety vests and caps, and here, of course, it was much easier to find Corey! The color grade needed for these two very different looks was a challenge to find. Balancing the blaze orange to stand out, but not to over-power the grays of the camo print and the surrounding mountains took some fine-tuning in Photoshop and Adobe Lightroom.
The national photo campaign launched at the end of January 2018, with Walls debuting my photos in larger than life prints surrounding their booth at the annual SHOT Show at the Sands Expo Center in Las Vegas https://shotshow.org/. The effect was exactly what we were going for. In an enormous exhibition venue (think Superdome size!) the powerful, stark images we had created still stood out amidst the who's who of the hunting and firearms industry. This venue is used by big outdoor brands like Cabela's, Mossy Oak, Carhartt, and of course Dickie's every year to showcase the very latest in clothing, gear and guns for 2018. The Walls Pro introduced their all-new camo pattern here, and it has been a real joy to help them showcase their proud new line of clothing.
Many thanks to the Walls team, and the agency, for their creative vision and trust in me. And deep thank-you's to my coworker Dan Sohner for assisting in the high mountains, schlepping a huge pack of lighting gear through the rain and snow; and to Dylan Brown for helping set the look for the images in Adobe Lightroom and Photoshop.
The series of images from this photo campaign recently won a One Club Award. You can read more about the award here.
You can also see my full portfolio of hunting imagery here.