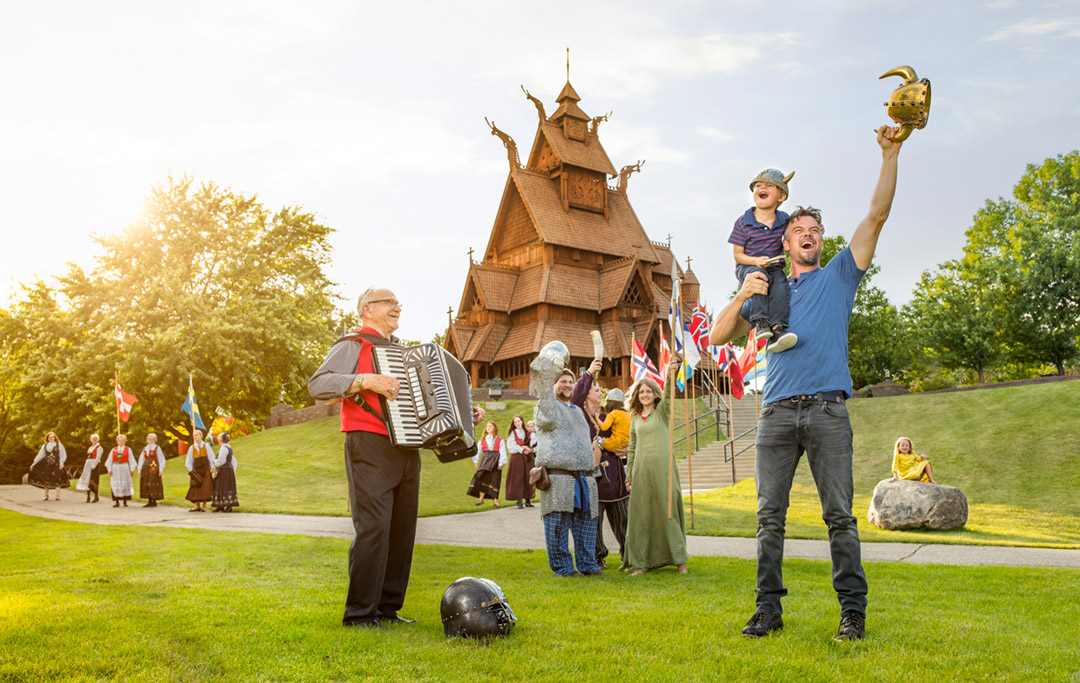 When most people think of North Dakota, a string of stereotypes typically comes to mind: cold, flat and empty. For many, it's a state they've never been to (it's the least visited state in the country), or one they've experienced only from the lanes of Interstate 94 during a long drive across the northern U.S.
But here's a little secret: there's a lot more to North Dakota than meets the unattuned eye. It is a state with true gems!
As the photographer charged with shooting this tourism campaign, as well as others for North Dakota over the years, I have the opportunity to share the beauty of this underrated state. One of the perks has been working with our energetic tour guide and star of the campaign, North Dakota native and Hollywood actor Josh Duhamel.
Throughout the years of shooting these campaigns, I've been wowed by sunsets over the Little Missouri River in Teddy Roosevelt National Park and explored some of the legendary Mah Dah Hey mountain bike trail in Medora (I'll be back for more adventure there …); I've heard Fergie play to a huge crowd at the North Dakota State Fair in Minot; seen NCAA champion hockey teams play at the Ralph Engelstad Arena; and I've eaten some of the best pizza of my life at Fireflour Pizza in Bismarck, North Dakota. I've also fished for bass at Devils Lake; toured Lewis and Clark's Missouri River winter stopover at Fort Mandan; and helped roll out the red carpet for Josh at the Fargo Theater.
The state holds a special place in my heart. Each time I visit, I am welcomed in by kind people, and the travel has led to lasting friendships.
It is because of the people and community I find there that I was thrilled when the North Dakota Office of Tourism asked me to shoot another tourism campaign with Josh Duhamel.
Josh grew up in Minot, North Dakota and attended college at Minot State University, so he knows the area well. What's more, his enthusiasm and love for North Dakota is infectious. Even as a Hollywood star, he still finds time to return frequently for family visits and to help promote the state; and it is this energy that we capitalized on for our recent tourism campaign.
Josh could spend his time anywhere in the world, but he chooses to head to North Dakota. Since this is the third time I have shot with him and North Dakota Tourism, we have created a nice rapport and it is fun to see the state through Josh's eyes for this tourism campaign.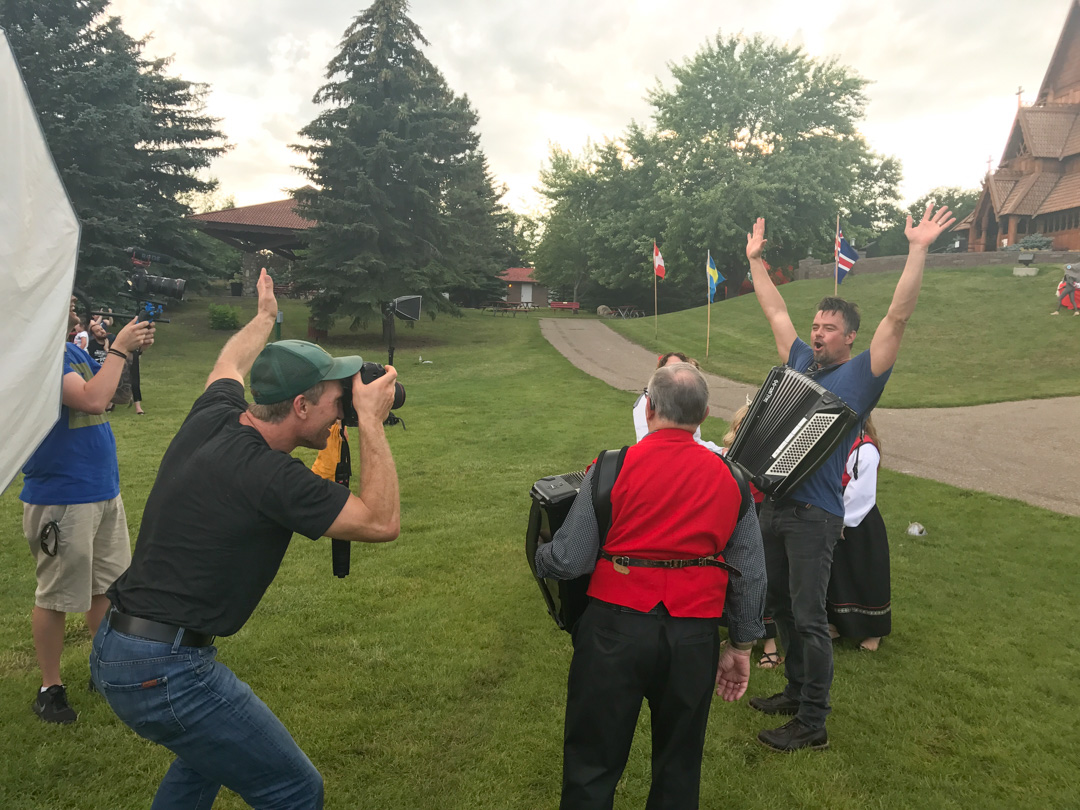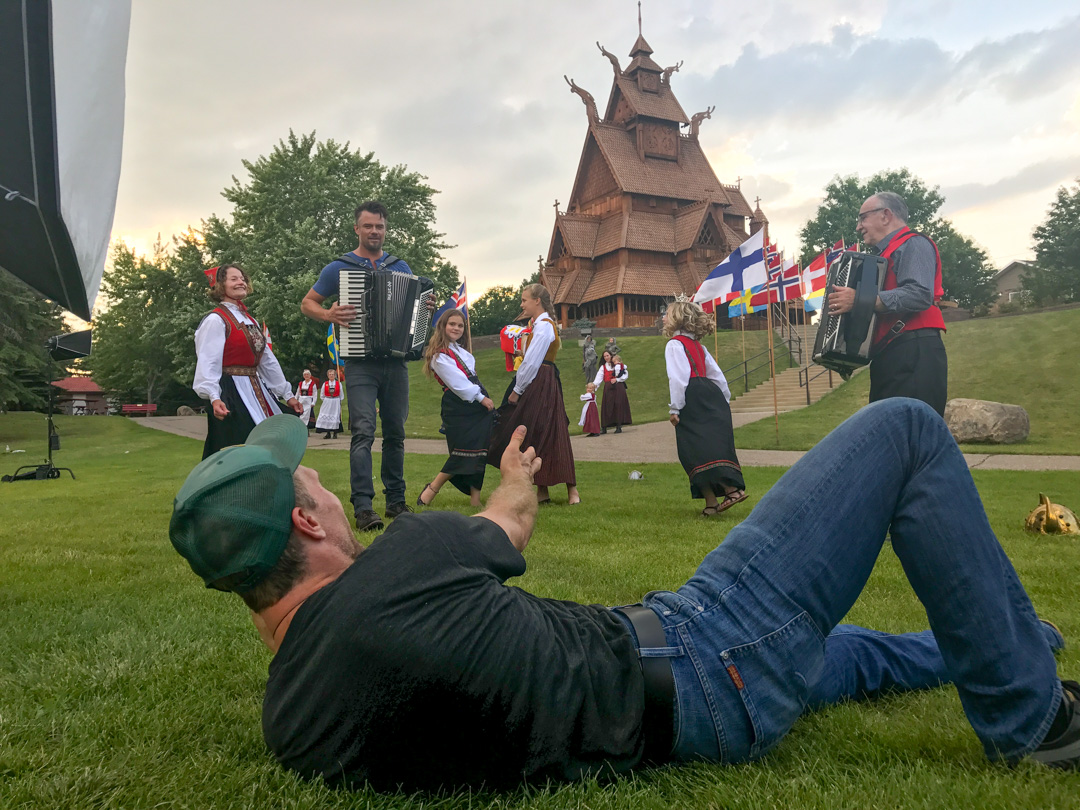 I have collaborated with celebrities before, and Josh Duhamel is one of my favorites to work with. He is respectful, hardworking and takes direction well. As a fellow director, he also infuses his creative ideas to the campaign. Above all, he is a true pro at his job! Check out some of his recent work here and you'll see what I mean.
North Dakota is so expansive, there are endless possibilities for scenes. For this 2018 campaign, the creative team wanted to focus on sports, a farmer's market and North Dakota's rich cultural heritage.
Shooting a tourism campaign can be a lot of fun but it also carries a lot of pressures. So what does it take to make a campaign shoot like this succeed? What is it like to work with a Hollywood star? How does the creative process work when selling a place, an experience really, rather than a product? Keep reading for my take, gathered from years of experience shooting tourism campaigns and from the latest North Dakota tourism campaign.
Shooting Tourism Campaigns: It All Starts With The Creative Director
A talented creative director is an essential element of shooting a successful campaign. We've been lucky to have Mike Bruner, the creative director at Odney ad agency, for all of the North Dakota campaigns. He is an exceptional artist in his own right and usually starts off with hand-drawn pencil sketches of the scenes and stories.
Any good partnership is a collaboration. In my opinion, the best creative directors are not just bosses, they provide inspiration for the best work to happen. I try to operate the same way. We work together very closely: present a plan, make it better. Ask: what can be changed? What isn't working?
The feedback and partnership should go both ways. We discuss the creative ideas for weeks. It always evolves. We play off each other's expertise: my attention to minute visual aesthetics, and Mike's attunement to the larger picture and branding needs for the tourism campaign.
And as a creative team, we strive to create content so compelling—larger than life, really—that our audience can't help but be grabbed by it. This tourism campaign has been running as large prints on the walls of the Chicago and Minneapolis airports, among other venues, and I want the viewers to be drawn into the story.
This is what we seek to capture in tourism campaigns. As a viewer, I want to know more about this. I want to know the story. Even if you, the viewer, don't know Josh or North Dakota, what becomes immediately unmissable is the joy, celebration or beauty of the image.
That's the spirit of North Dakota we are sharing.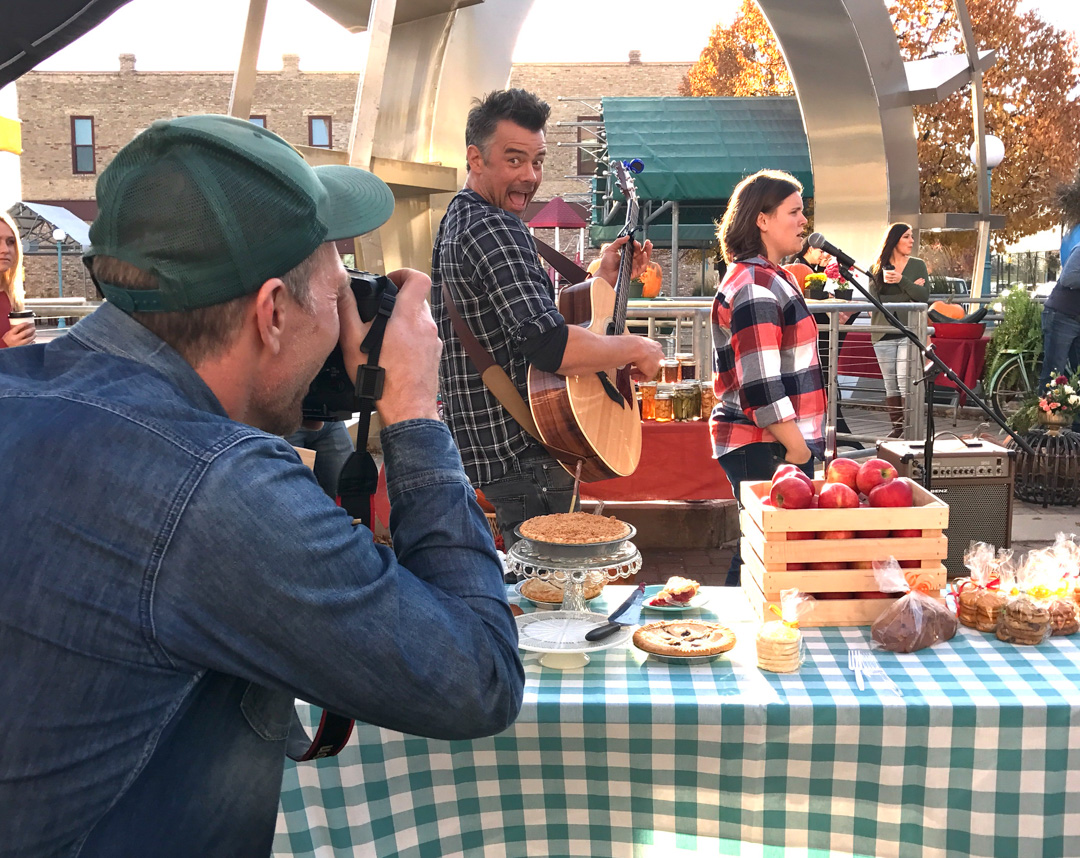 Scouting: Where the Real Work Is Done
Sometimes for a tourism campaign, scouting can seem mundane, even repetitive, but this is where the very foundation of any image is created.
When shooting Josh high-fiving hockey players in the Ralph Engelstad Arena in Grand Forks, for example, we were given very strict confines of where we could be; and we had only seconds to capture the shot. We had no chance for retakes—this was a one-and-done image. And so our scouting and lighting tests the day prior were crucial to ensuring we could make the most of our limited time during the actual shoot.
Scouting is arguably the most important part of the entire process, one I have written about in previous posts. The agency can send mood boards––collections of images describing the theme, feel, tone, etc that the client is going for—but for a photo campaign to even get off the ground I need to scout a lot.
I am a fan of the Sun Seeker App, which tells you exactly where the sun will be at any given time in the day. This is extremely important as I often build my images from the background forward. Once I can visualize where the sun is, I then set out on the task of finding the absolute perfect section of trail, bend in the river or spot in downtown Fargo to shoot.
For the North Dakota campaign, we sought larger-than-life moments with Josh. The goal is to grab a viewer's attention quickly and connect to Josh's identity while also telling stories through the layers of the image. It's not just about the subject of the image but more about how the entirety of the scene comes together. Because of that, each image is constructed meticulously and strategically.
Once we see the scene, then we can begin to envision where the light will fall, which lenses I will choose and even where we will place crew and lighting.
Scouting is also super important as it provides the crew with a better understanding of time management, which is critical when working with celebrity talent and public streets.
Working with high profile talent
Watching Josh Duhamel perform on set, I've learned the value of being vibrant and willing to do anything without being shy. Josh is fully willing to step into a role and be silly––to dance or dress up in costumes to fully engage in the role. This requires a lot of confidence and a lack of ego, as you have to be willing to experiment with different acting performances while honing in on the best one.
Everyone wants to meet with Josh, understandably so. While my crew and I are setting the scene and making sure every detail is dialed, Josh is off kindly talking to fans or meeting with local officials. He is so talented that he can nail any scene, but I do have to direct him same as anyone else. Josh often gives far more than other talent—not just because he is vibrant, but because as a fellow director he understands what needs to happen to deliver a good story.
It works best for me and the team when there is a mix of respect and deference for Josh and our clients, but that goes for the whole crew. There should always be respect at any level, but the other thing is that it's important to see the ordinariness in everyone. You can't create great work if there is a power differential. Celebrities, marketing execs, creative directors — ideally we are all working to our highest potential, egos aside. We are here to serve the client as best as we can, and when that happens, not only do we get the highest-quality work, but we have the most fun.
Josh is always willing to do that. He is very generous with his time and never complains, never asks for special treatment no matter how long the day.
Technicalities: Equipment and the shooting process
Since the images are going to be used on the web and in large format print campaigns, the quality had to be spot on and we chose to shoot everything on the Canon 5D S and Canon 1DX Mark II.
The lighting for this campaign, as compared to other work (see Walls Workwear for example), is softer but it still needs to feel engaging and directional. When shooting the outdoor scenes, I almost always want to shoot backlit to create a high key background; and I'll fill the foreground with a large softbox.
I use the Elinchrom ELB 1200 and ELB 400 lighting packs along with the Elinchrom Indirect Litemotiv modifiers. The light quality is outstanding, and the the ELB packs allow me to shoot at high shutter speeds indoors and out.
During the shoot, I using an iPad Pro or external monitor to review images and gather feedback from the agency and client. This is not only important for the creative team, but also for the talent to gauge what is working and what isn't. I welcome criticism from everyone on set, in the spirit of evolving the scene and creating the best image possible.
The images you see here are the result of an enormous team effort. As with any good shoot, I can hardly claim the images to be "mine," as countless people have helped concept and contribute to the entire process. And really, that's the way it should be!