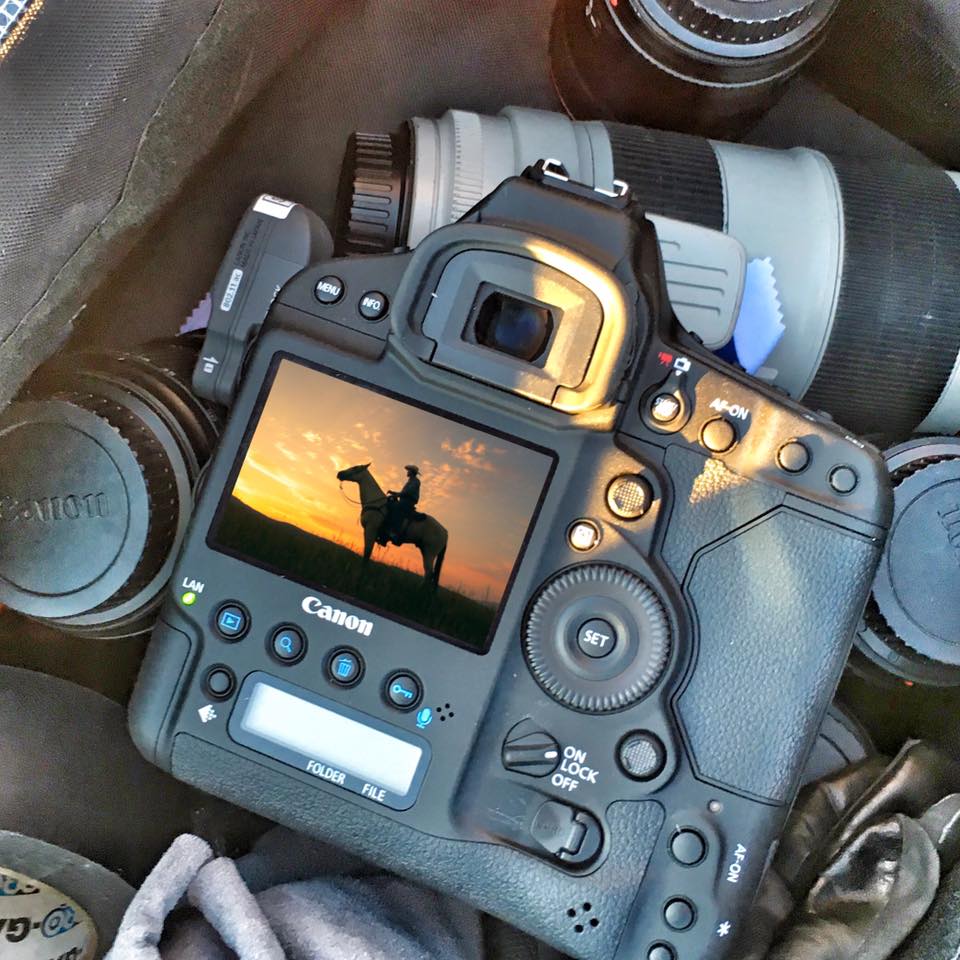 Some gear you just can't leave home without. This is my list.
My "Go To" Camera Body:
First on my list of necessary gear is The Canon 1DX Mark II, which is definitely my go to camera. For as well built and rugged as this camera is, it is surprisingly nimble and adaptable. Since I am often in situations where my team and I need to work quickly, the ability to work with such a powerful yet compact setup is invaluable. Additionally, this camera has a very wide exposure latitude and the RAW files the camera produces tone up nicely.
I can't speak highly enough of the video features of this camera. 4K at 60 frames per second and even up to 120 frames a second at full HD makes simply broadens the horizons of what I can offer to my clients.
Another camera I am very fond of the Canon 5d Mark IV. This camera packs a 30.4 megapixel full frame sensor and 4k capabilities into a compact body, and it works perfectly as a light camera on a gimbal for video shoots. Both cameras feature dual-pixel autofocus, which is a huge asset for tracking moving subjects — without the need to pull focus while you shoot!
Which Camera Lenses Should I Use: 
Lenses. Where to even begin. Prime or zoom? "L" series or Cinema? Tilt-Shift, even?
I can tell you what I use in most situations and why, but lens choice, possibly above all other gear, is one of the first steps in developing your own personal style. Lenses help us, as artists, to shape the "reality" of what the viewer is seeing, depending on what you are trying to convey with the image. Lenses are really the tools of emotion.
For most of my work, I love to have a very shallow depth of field. I often use the Canon 50mm f/1.2L II USM to achieve this look. The 50mm also has a fairly natural feel to it and represents a lot of how the human eye will perceive depth and spatial relationships between objects in the frame. For wider images, I shoot with the Canon 11-24mm f/4.0 L USM. Some people think that a lens this wide can cause too much distortion in an image, but understanding the way certain lenses function help me make the most of this — for example, keep the lens level, and all the elements in the frame will be too!
On the opposite end of the spectrum, I shoot with the 70-200mm f/2.8L II IS USM. This lens is really good for portraits, but I love to use it to compress the scene. Take, for instance, morning mist or snow. The presence of these elements can be amplified with a longer focal length, adding drama to the scene.
As for the conversation around L series or Cinema lenses…
I would encourage anyone to take the time to rent all different kinds of lenses when searching for that perfect piece of gear. While I do primarily rely on fixed length primes, zoom lenses can be very useful depending on your style.
Fast Cards Definitely Help: 
Fast, high-data-rate cameras such as the 1DX Mark II don't perform at their optimum speed without the fastest memory cards on the market. For both stills and video I rely on the SanDisk 128gb Extreme Pro CFast2.0 cards. These cards are able to handle the amounts of data from the 1DX Mark II with ease, and also move that data to computers and storage devices swiftly. After a long day of shooting, the last thing we want to do is stare endlessly at a screen while the images transfer over. This is why we also use SanDisk Extreme PRO SSD portable drives to ingest and make backups!
Let There Be Light: 
In my bag, I always have at least one Canon's 600 EX-RT Speedlite. Since these flashes can be used and synced wirelessly, they are the perfect piece of gear for rapidly changing conditions. For such a small setup, they have a lot of power!
Complimenting these speedlites, the Westcott Apollo 28" Speedlite Softbox creates a beautiful soft source and packs up into a very manageable package.
On stills shoots where we need a larger or more powerful light source, I use the Elinchrom ELB 400 and ELB 1200 lithium-battery strobes. These are revolutionary strobes that, with the EL-Skyport Transmitter Plus, can sync at speeds up to 1/8000th of a second! This not only allows me to capture fast-moving action, but equally as important, I no longer have to use neutral-density filters to stop down my shutter speed to the traditional sync speed of 1/250th of a second, and I can shoot with less strobe power as well. The Elinchrom lights pair well with the Elinchrom Indirect Litemotiv Softbox, which produces gorgeous soft light – perfect for fill light when shooting outdoors. I often shoot into the sun and need to know that the lights and modifiers I am using as fill can handle the task.
Another crucial tool in my lighting kit is an overhead scrim and a white bounce or reflector — these two tools can transform harsh midday glare into truly exceptional, soft light. For this I love the Westcott Scrim Jim system, as it's far lighter, more packable and more durable than anything else I've used. Available in sizes from 2×2' to 8×8', I use the 8×8' as an overhead silk, and the smaller sizes with white or silver bounce fabric.
Getting Around in the Field:
I really like to have everything I need for a shoot quickly accessible. The best solution I have found for this is the Think Tank Photo Speed Racer V2.0. This is a very compact and well balanced hip pack which I can swing out of the way when shooting. When I need gear out of the pack, I can easily swing it back around. I have been surprised at how much gear this unit can carry. For larger shoots, we will transport gear in the Think Tank Photo Production Manager case as well as the Airport International Roller, but I always transfer my essentials to the Speed Racer for active shooting.
Filters, The Understated Necessity:
Never underestimate the power of a quality filter, even when shooting digital. For both video and stills, I carry several Tiffen ND filters. As those of you who have shot video on DSLRs will know, it is often best to keep your shutter speed at 1/50th of a second for a cinematic look, so I rely on the Variable Neutral Density filters to be able to shoot at a shallow depth of field even in strong sunlight. While these filters are great for shooting in rapidly changing conditions in the field, you will get better image quality using fixed ND filters — I carry both, and when time permits I used the fixed filters; when I'm running and gunning in shifty light, I use the variable ND filters.
I am also a firm believer in carrying a polarizer with me on every shoot. Not only will this help add saturation to an image, but it cuts down dramatically on glare from shiny surfaces and reflections from glass objects, like car windows.
DSLR Video Rig and Support: 
We rely on Red Rock Micro video rigs
for shooting shoulder mount and underslung; these can adapt to a wide range of cameras from DSLRs to cinema cameras. The rigs are good for working quickly in constantly changing environments where a tripod setup would take too much time and get in the way of other moving elements of the scene. I will also use these rigs to add dynamic camera movement to the shots, especially when working on a shoot where I want to get close to the subject. Red Rock Micro's MicroRemote focus system is a truly unique and revolutionary piece of gear that lets you pull focus with a thumbwheel while operating a gimbal. You can also transfer focus capabilities to your camera assistant remotely instantaneously. I also use the Letus Helix Jr. This small gimbal can manage a 1DX Mark II camera with a SmallHD field monitor and MicroRemote system attached and is the lightest and most manageable gimbal I've ever used. It becomes even lighter when paired with a 5D Mark IV camera. Also in the mix of this gear group is the SmallHD 702Brite field monitor. Amazingly bright, with all the tools you need as a DP or cinematographer to ensure your images are exposed correctly and in crisp focus.
But What About Audio:
For larger shoots with bigger budgets, we will often hire a separate audio engineer with his or her own list of specific gear. For my needs, I use the Senheisser G3 wireless lav system, perfect for interviews and remote recording in the field. The Senheisser MKE 400 DSLR shotgun mic helps a lot with ambient audio when syncing in post production is important. The mic is small, fits in a hot shoe mount and can stay out of the way. For situations where a bit more audio quality is necessary, I will move to the Sennheiser MKH-416 shotgun mic. While it is a bit larger, It can handle a much wider range and the signal it produces is easier to work with in post.
So there you have it, my list of necessities for every shoot. Now get out there and start working on your own kit!
-TS