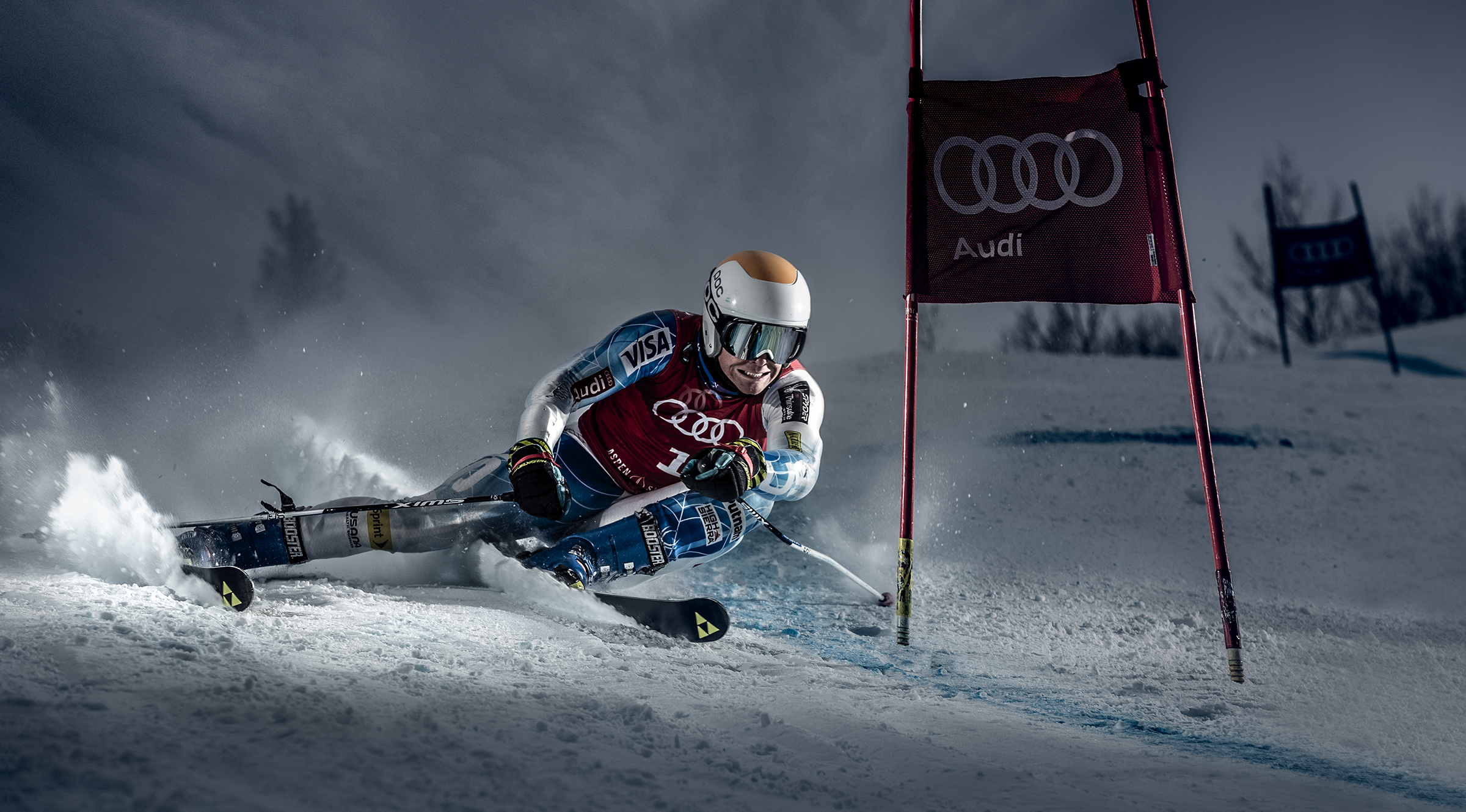 As a continuation of my personal project The Athlete Series, this month I set up a shoot photographing ski racers with the Aspen Valley Ski & Snowboard Club (AVSC) to capture high-speed strobe imagery. My goal was to capture a singular and unique ski racing shot, in a way that I hadn't seen done before: shooting at dusk, at the apex of the skier's arc around the gate, using high-speed strobes.
Essentially, I wanted to create a moody aesthetic with evening storm clouds, while the backlit strobes increased the drama and intensity of the moment. And with the help of many AVSC athletes racing through the turn for us, we nailed a perfect moment.  This photo features AJ Chabot racing the Super G course at Aspen Highlands.
My traditional high-power strobes don't sync at high speeds with the Canon 1DX Mark II so I used six Canon 600EX-RT Speedlites and the Canon ST-E3 wireless transmitter, three for backlighting on camera right, and three positioned camera left as side lights. Due to the power limitations of these small strobes and the high output we needed to overpower ambient light, I could snap only one one shot per take — so I had to learn to trigger the shutter at exactly the right moment within a millisecond; many times the skier would be just out of the small cone of light produced by the strobes.
AJ was one of the athletes who kindly did multiple laps for our shoot into the evening; AJ is a 19-year-old skier competing with AVSC on his gap year before starting a Division 1 ski racing program at college next year.
Photo details: Canon 1DX Mark II camera and 70-200mm f/2.8L II lens at 140mm, ISO 160, f/5.6 at 1/1000th second with 600 EX-RT Speedlites.
Many thanks to the AVSC, the ski racers, and coaches John McBride and Torey Greenwood for amazing help with this project! Similar thanks to my crew Dylan Brown and Jordan Curet for working in the cold on steep terrain. Dylan set up a second 1DX Mark II camera right at ground level with the 14mm f/2.8 lens and captured a couple of the great shots below during his time photographing ski racers.