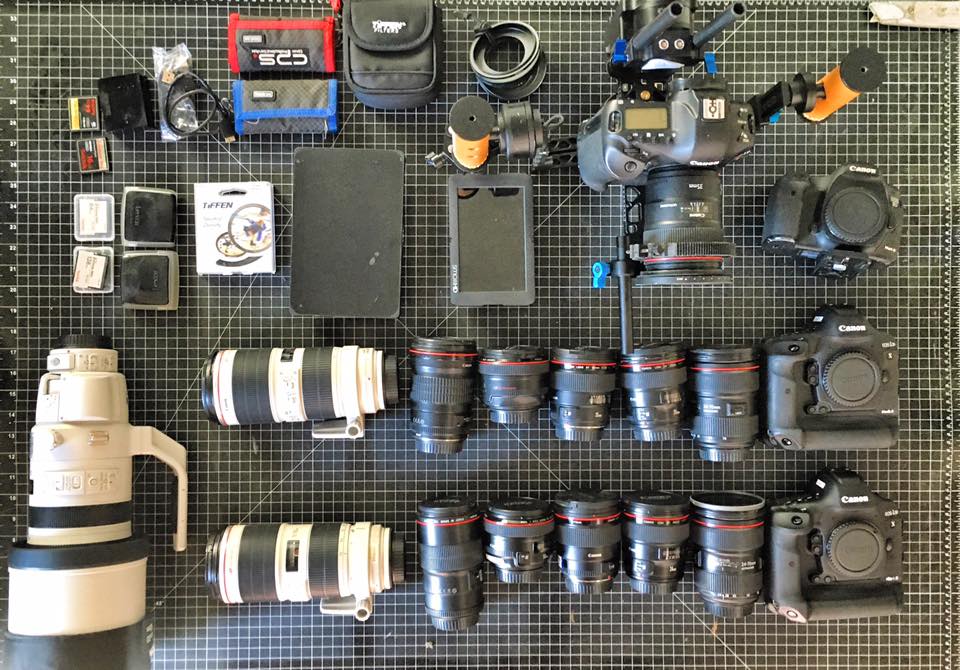 Some of the most frequent questions I am asked are, what camera do I shoot with and what is the best gear I can rely on? So here is a look at what cameras and gear is "in the bag" for all my shoots.
The Canon 1DX Mark II  is my go to camera. Though it is  built tough, it is light, adaptable, and gives me a lot of versatility. It shoots at incredible speeds: 4K at 60 frames per second and even up to 120 frames a second at full HD. In addition to speed it also captures high dynamic range.
LENSES
For lenses I love both a very shallow depth of field and sometimes a wide-angle look. I carry the Canon 50mm f/1.2L II USM lens (plus various others; this one gets the most use) and the Canon 11-24mm f/4.0 L USM lens with me for a variety of shoots. Experiment with ultra wide angle lenses and long telephoto lenses — these can often create a unique look to your images, because the lenses view the world so differently from our eyes. The world takes on a whole new dimension from this perspective. And when I want to make morning mist, or snowfall, look more intense, I turn to a long lens like the 70-200mm f/2.8L II IS USM lens to compress and amplify the ambience – most of the best gear I used is found in the lenses.
MEMORY STORAGE
The 1DX Mark II camera needs a screaming-fast memory card to record the high data rate, so I use the SanDisk 128gb Extreme PRO CFast 2.0 memory cards. I also use SanDisks's compactflash cards with cameras like the 5D Mark IV, 1DC and 5DS etc — my favorite is the SanDisk Extreme PRO 128gb compactflash card.
For fast downloads and backups, my team and use the SanDisk Extreme PRO SSD portable drives, they are unbelievably fast, and they really speed up our digital workflow when ingesting and backing up files from a long shoot day.
STROBES
I alway carry one or two of Canon's 600 EX-RT Speedlites when I need to travel light. These flashes work wirelessly so they can be placed virtually anywhere off camera. For shoots on the go, the Westcott Apollo 28" Speedlite Softbox creates a beautiful soft source for the Speedlites, and it packs up compactly.
For stills shoots where we need a larger or more powerful light source, I use the Hensel Porty L 1200 strobes with Westcott soft boxes – I love the Westcott Pro Signature 5′ Octobank, it greats a gorgeous soft light source that is the best gear for fill light when shooting outdoors.
MONITORS
For both stills and video shoots, my go-to field monitor is the SmallHD 702 Bright 7" field monitor. I use it on my video rigs, where the focus peaking and waveform monitor tools etc make it a snap to ensure perfect focus and exposure. And for stills, I keep it handy to plug into for quick review of images.
To transmit photos to our iPad Pro on set for immediate client viewing, I use the Canon Wireless File Transmitter WFT-E8A. When I'm shooting raw files, this sends reference jpegs to the iPad for quick viewing. It's a real boon to be able to view the images on a 13-inch monitor, to check for critical focus and composition etc.
FILTERS
I carry an assortment of Tiffen neutral density filters for both still and video shooting. When shooting stills in bright sunlight and using our Hensel Porty 12 strobes, we need to shoot at a flash sync speed of around 1/320th of a second, and I often like to shoot at f/2.0 — so I use a neutral density filter to reduce the incoming light, allowing me to shoot at these settings. And for video, the shutter speed has to be much slower, often around 1/50th of a second, so an even stronger neutral density filter is needed. I rely on Tiffen's Variable Neutral Density Filters when speed is of the essence, and I use an assortment of their IR ND fixed neutral density filters when I have time to switch filters during ambient light changes (the image quality is better with the fixed filters than the variable filters). I get these in the 82mm diameters, and use step-up rings to mate them to the various diameters of my lenses.
Also in my filter kit is the 82mm Tiffen Circular Polarizer for cutting glare on snow, water and clouds — it's also helpful for reducing reflection on windowsand cars etc.
MY BEST GEAR BAG

I've mentioned many of the essential items in my camera bag. But what's my favorite camera bag? The one that has been with me incessantly through the years, and through multiple new iterations of camera bodies and lenses etc, is the Think Tank Photo Speed Racer V2.0 waist pack. It can hold an impressive amount of gear when I strip out the center dividers; it carries well on my waist, and it has a shoulder sling so I can swing the bag to the front for easy access. Even when I'm on shoots where we have lots of large bags on set, I still have at least one or two of these Speed Racer packs to keep my shooting essentials right on my hip.