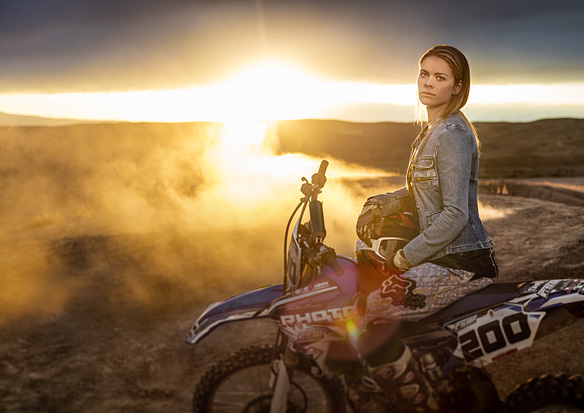 I am excited to share the first motocross photographs here from the start of a personal project, called "The Athletes." My goal for the series is to push myself to capture environmental portraits of top athletes with dramatic lighting and a heartfelt human connection. And if I can capture the occasional action shot along the way, great!
For this shoot, I photographed motocross riders Ramona Bruland and Eric Rhoten in the desert hills moonscape outside Grand Junction, Colorado. Under heavy storm clouds, the sun peeked out for just a few minutes right at sunset, allowing us to capture this strobe-lit portrait of Ramona while Eric spun dust in the background in 30-mph winds. (I used Hensel Lithium Porty 12 strobes, my go-to system for high power and perfect light quality in remote locations.)
I tied the project in with a promotional shoot for Canon's new 50 megapixel EOS 5DS camera and the new Canon 11-24mm lens. Man was I impressed! This is a great lens for shooting action, with incredibly little distortion for such an incredibly wide field of view. The dusk jumping shots were taken with this lens, and it has quickly become a favorite in my camera bag. Paired with the incredibly sharp and detailed 5DS camera, it's a hard-hitting combination.
Stay tuned for more installments of The Athletes soon!