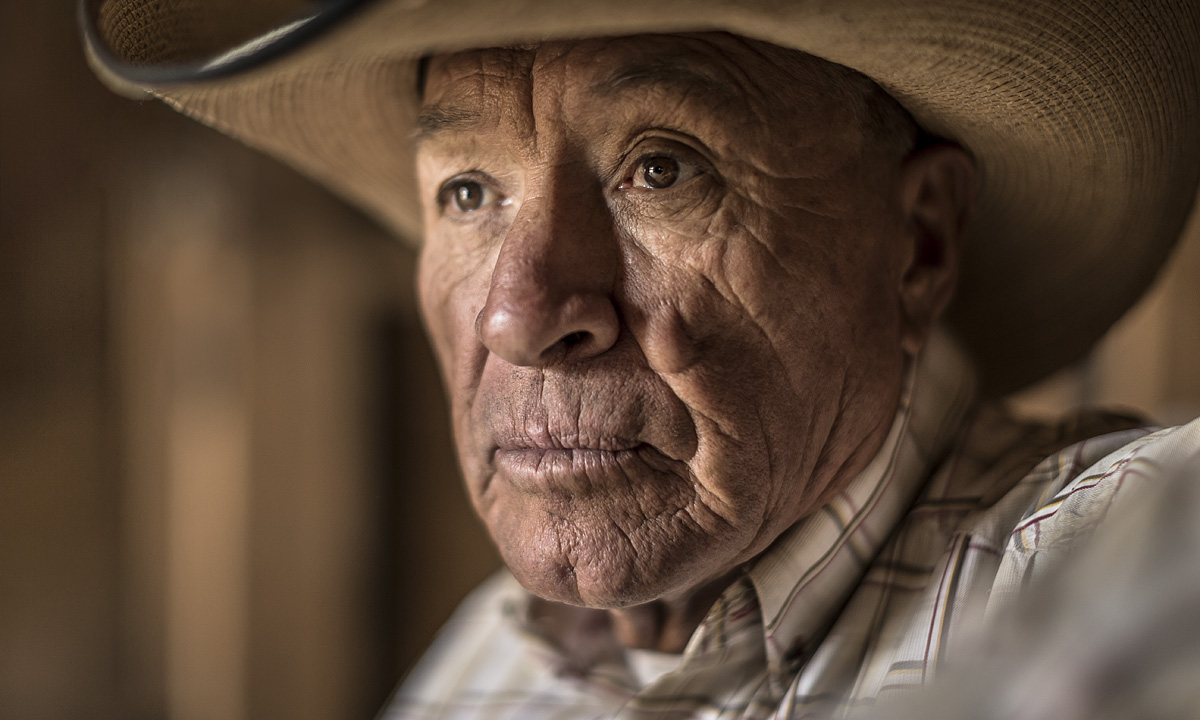 This month marked a momentous event here at Stableford Studios — our first gallery show. I couldn't have been more enthusiastic about the subjects for this portrait series: Farmers! Yes I know, an exclamation point has probably never attached itself to the word farmers in the history of the English language … yet that's entirely how excited I feel about the project.
Why farmers? Because farmers (and their kinsmen of ranchers, beekeepers, cheese makers and other food artisans) have a soul that radiates from their very beings. Capturing their portraits was one of the most meaningful artistic endeavors of my career. Farmers work the land, pray for rain, struggle with feed prices, and care for their animals nearly every single day of their lives — often with two or three other generations of family by their side.
There is a solemnity to the farmers, every one of them. As I traveled to farms around the country, I learned of the perennial challenges: If it's a bumper corn crop (as it is in the heartland this summer), corn prices go down, way down. And in a drought like past years, hay becomes too expensive too keep all the animals fed through the winter … Not one farmer, ever, spoke of their livelihood as a sure thing. Not one of them had it made.
And yet — and this is what really attracted me to photograph them — the farmers radiate a deep sense of grace and resilience.
My team and I photographed over 40 farmers and ranchers this year in preparation for the July 30th gallery opening of "The Farmers" at Town restaurant here in our hometown of Carbondale, Colorado. Our resident print master Draper White, who has worked with me for nine years, processed and printed each portrait with a true craftsmanship.
We shot the images with the Canon 5D3 and 1DX cameras and lenses, and printed them with the Canon ImagePROGRAF iPF8400 printer in our studio. For paper we chose Canon's Artistic Matte Canvas for its beautiful earthiness; and what's more we could frame the prints using Breathing Color's EasyWrappe kits, which create a three-dimensional image frame. The gallery viewers could connect directly to the farmer portraits, without the shield of glass that so often separates us from the subjects.
I was often overwhelmed and speechless seeing a large-format print come out of the iPF8400 printer — it was almost as though the very humanity of the farmer was rolling out of that inkjet machine, in a way that simply doesn't happen on a computer monitor. We printed a handful of our favorites in huge 3 foot by 5 foot prints.
"The Farmers" is an ongoing project, and we will showcase the portrait series at the Photoville festival in Brooklyn on September 18-28 and at the PhotoPlus Expo in Manhattan on October 30-November 1. Stay tuned for more details!
In addition, we created a series of behind-the-scenes videos for Canon, sharing the equipment and workflow I used for various shots as well as the printing process. I'll post links to the videos when they launch.
I share my deep gratitude to Canon, Dentsu and Breathing Color for helping make this project possible. And to the farmers and ranchers who welcomed me onto their land, into their families and into their homes: Thank You.
Here are a few portraits from the series, as well as behind-the-scenes images. More to come!
–Tyler Stableford