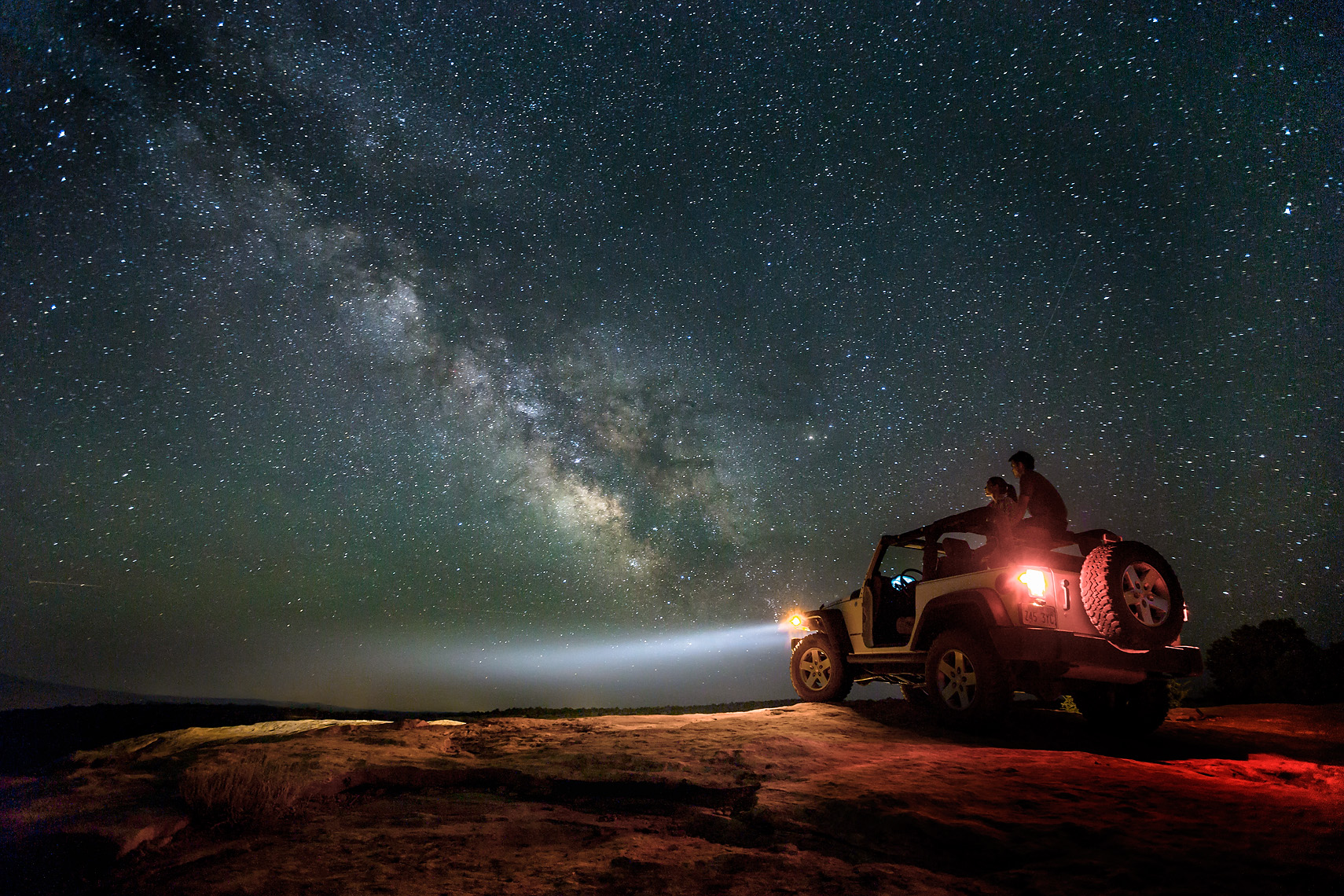 As part of our new series of campaign spotlights, we'd like to share highlights of the work we created for Canon Asia and Hakuhodo Singapore while photographing the Milky Way recently on their campaign for the Canon 6D camera.
Hakuhodo agency was looking to show off Canon's newest — and the industry's lightest — full-frame DSLR camera; they spoke with Tyler extensively to research a captivating setting for the campaign. Tyler convinced them to come to the beautiful Canyonlands area of Moab, Utah; although it's only 3 hours from our studio, it has some of the more stunning, exotic-looking terrain on earth, perfect for photographing the milky way. Considering we would be working in the desert during mid-summer heat (highs hit 109˚F), we planned our shoot to take advantage of cooler times of day and conveniently, the coolest times of day were also the best times of light, right at sunrise or sunset.
Photographing the milky way is not easy, and one of the main goals of the campaign was to capture images that would show off the camera's incredibly low-light capabilities. The featured image here is the result of that idea. Setting up near Dead Horse Point State Park, we shot through sunset and then waited for the Milky Way Galaxy to come into view. We positioned the Jeep to face toward the canyon rim and sat the talent on top of the jeep with simple instructions: enjoy the view and STAY STILL. For 30 seconds, that is. Tyler cranked the 6D's ISO to 3200 to optimize the camera's ability to capture the stars. Stealthily hidden in the passenger seat foot well, our first assistant Draper would turn off the Jeep's headlights around 8 seconds into the exposure. This allowed us get the accent of the headlights casting off into the distance, without blowing out the exposure. This analog lighting technique gave us the dramatic shot you see above, all in one capture!
Image Settings:
Camera: Canon EOS 6D Lens: Canon EF 16-35mm f/2.8L II USM
Aperture: f/2.8 Shutter Speed: 30 seconds ISO: 3200
Check out some more single-capture, analog lighting images from the shoot in the gallery below, along with a quick behind the scenes timelapse of capturing the Double Arch shot.

Check out some more stills from the rest of the shoot and visit us on Facebook to see behind the scenes photos of the shoot here.