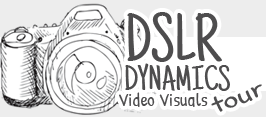 As you know, we here at Tyler Stableford Productions are HUGE advocates of DSLR style filmmaking. Which is why we're psyched to let you know about our friend Mitch Aunger over at planet5d.com is launching a DSLR dynamics filmmaking tutorial tour.
In Mitch's words, "Our tour is called DSLR Dynamics Video Visuals Tour and we're bringing in-depth tips, tricks, and insider knowledge to 30 major cities in the United States and Canada this fall. There are more details here: http://dslrdynamics.com."
The tour's teachers, Mitch and Barry Anderson, have done exhaustive work on how to get the most out of DSLR cameras from every end of the spectrum. From single camera and lens run and gun work all the way up to full cinema style shooting. While we've been lucky enough to have posts about our workflows on planet5d, it's more often that we are picking up tips and tricks from them to improve our movie making process. Check out the tour and have fun shooting!