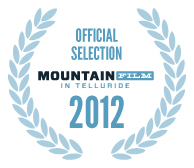 Ben Thomas here, Video Intern at the studio. This past weekend was Mountainfilm in Telluride, the second festival for our film Shattered. It was an incredible weekend. The range of films and stories and lectures went from inspiring and moving to funny to jaw-dropping and adrenaline pumping and back again. It is incredible to be a part of such an amazing group of artists, and we couldn't be more proud to be showing our film along side them. I introduced the film at the Climbing Program on Saturday and was having a blast representing the studio. 
"Shattered" is a co-creation with the legendary alpinist and writer Steve House. After achieving one of his dream summits, Steve found himself bereft, searching for a deeper meaning in his life. "Shattered" shares a window into his inner journey.
The film premiered alongside good company in the Mountainfilm setting that is known for bringing out adventure films as well as more introspective meditations, or visual poems, like "Shattered." See more on the process of making "Shattered" here.