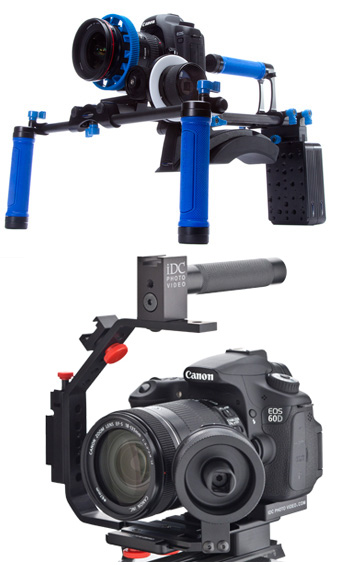 DSLR video and the video workflow has completely revolutionized our industry, and with good reason: the huge 35mm sensor on the Canon 5D Mark II is larger than almost any Hollywood camera out there, and at an incredible price point. Today's new DSLR cameras are redefining cinematic storytelling.
My videography experience ranges from commercials to documentaries, all filmed with Canon's latest DSLRs. I have also taught multiple workshops and seminars all over the country, providing instruction on shooting video, as well as processing it.
That said, it's NOT easy to navigate all the custom functions and menu settings to optimize your camera for professional video; and the hundreds of 3rd party rigs, monitors, and audio accessories are simply overwhelming. I have tried to simplify the confusion with a step-by-step PDF; I hope it saves you some of the endless trial and error that I have been through! This PDF is part of a DSLR Video Crash Course seminar I gave at the PhotoPlus Expo; follow my blog to stay in touch for upcoming workshop opportunities.
Take a peek at the custom settings, functions, and equipment that are a part of my video workflow when you download the PDF here. And to see an award-winning short film where I put these DSLR tips to use, watch The Fall Line, a film on Paralympic Ski Racer Heath Calhoun, here.
One of Canon's prestigious Explorers of Light, Tyler's creative passion is using lenses to tell heartfelt stories. Apple, Adidas, The North Face, Patagonia, Wrangler, Timberland, Cabela's, Stetson, and dozens more have hired him to shoot provocative commercials with wide-angle footage that transports viewers into every scene. Using dynamic lighting and handheld camera work to charge his projects with emotion, Tyler has become one of the most sought-after commercial directors, photographers, and multimedia lecturers in the nation.