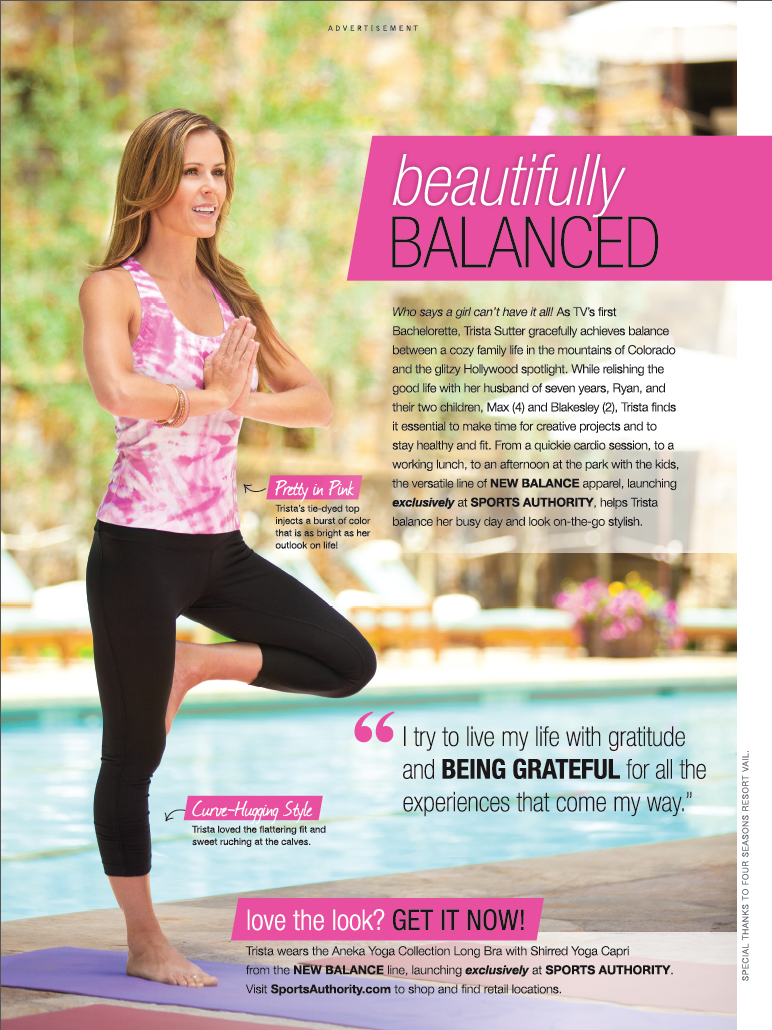 Shooting a campaign at high noon can be challenging, particularly at 8,000 feet in Colorado where the sun is FIERCE — but it's not impossible! On our Sports Authority shoot for Fitness Magazine's August issue advertorial, we had only a 1-hour midday window to capture former bachelorette Trista Sutter doing yoga at the Four Seasons in Vail. The light simply couldn't have been any harsher! We used a large 3/4 stop silk scrim overhead to soften the sunlight and let Trista's natural beauty shine. The light on her was now nice and soft, but relatively flat. So we used three Hensel Porty L 1200 strobes with Westcott softboxes to accentuate the garments and her physique; one light was a backlight on the left of the frame; another was at a 45-degree angle in front of Trista on the camera left, and the third light was at a 45 degree angle in front of Trista on the camera right.
The other technique we employed to enhance the midday light was to make the background go soft and high key. By scrimming the sunlight overhead, Trista became darker relative to the background; so when I set my exposure properly for her, the background went high key. I shot the image with the Canon 5D Mark II and the 70-200mm f/2.8 II lens wide open at f/2.8, to bring Trista forward from the background, and to lend a painterly blur to the Four Seasons' beautiful pool yard. Photo details: 1/200th second at f/2.8, ISO 100, 120mm.
One of Canon's prestigious Explorers of Light, Tyler's creative passion is using lenses to tell heartfelt stories. Apple, Adidas, The North Face, Patagonia, Wrangler, Timberland, Cabela's, Stetson, and dozens more have hired him to shoot provocative commercials with wide-angle footage that transports viewers into every scene. Using dynamic lighting and handheld camera work to charge his projects with emotion, Tyler has become one of the most sought-after commercial directors, photographers, and multimedia lecturers in the nation.