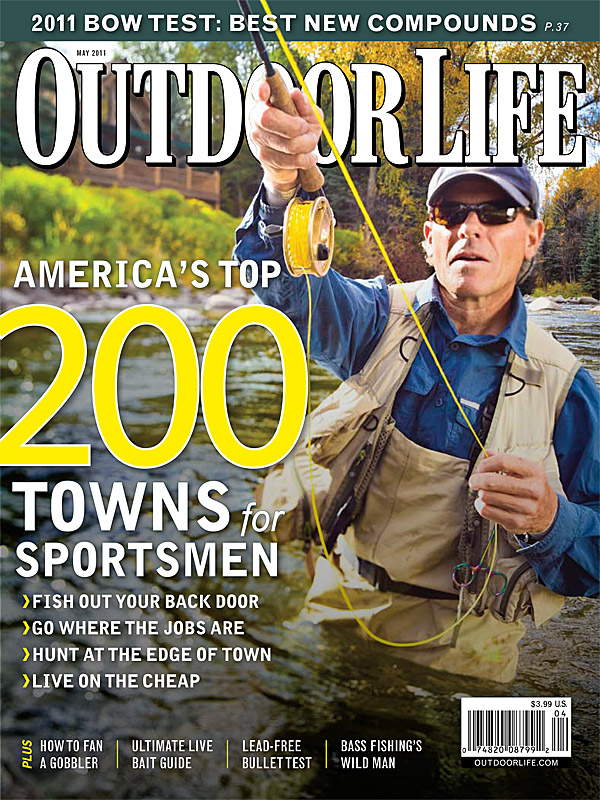 Outdoor Life magazine's latest issue on America's Top 200 Towns for Sportsmen features my cover and inside spread fly fishing images of Aspen outdoorsman Harve Hoff casting in the Roaring Fork River in Woody Creek. We scouted many beautiful locations on the river but chose this gorgeous spot at the Blue Skies Estate. This area is just perfect for sportsmen of any kind and I am beyond excited to be able to represent it in a national magazine. What an honor to live and work in an area that is perfect for all sorts of outdoor activity! This is not the first time Carbondale has made the list.
I shot these images with the Canon 24mm tilt-shift lens and tilted the lens at a diagonal to match the fisherman's fly rod, dropping the rest of the image out of focus. I have to say, this lens is absolutely fantastic. There are so many creative uses for it that any type of photographer can get a great image with it. For the cover image, my first assistant Draper reflected light from the right side of the frame. I like to work with the beautiful afternoon light, but it can be harsh without the fill from the reflector.
Here are my image details for these fly fishing images: I used a Canon EOS 1D Mark IV with the 24 mm lens at an aperture of f/5.6, a shutter speed of 1/500, and ISO 400.
One of Canon's prestigious Explorers of Light, Tyler's creative passion is using lenses to tell heartfelt stories. Apple, Adidas, The North Face, Patagonia, Wrangler, Timberland, Cabela's, Stetson, and dozens more have hired him to shoot provocative commercials with wide-angle footage that transports viewers into every scene. Using dynamic lighting and handheld camera work to charge his projects with emotion, Tyler has become one of the most sought-after commercial directors, photographers, and multimedia lecturers in the nation.