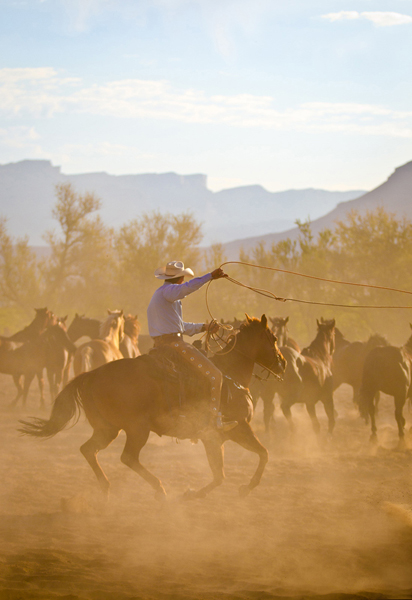 I am leading three exciting Canon workshops coming up this year for photographers of all levels in beautiful destinations in the West and New England. The first workshop will be coming up in April in Arches – see below for details and check out the Canon Digital Learning Center website for information.
The first of three workshops, "Arches National Park and Spectacular Cowboys", will held on April 9-10. This action-packed workshop is in the heart of Utah's canyon country. On Saturday we will explore the magnificent landscapes of Arches National Park, finding unique ways to capture the sandstone monoliths. On Sunday we will shoot action scenes and environmental portraits with authentic cowboys; if time permits we will explore a vineyard alongside the Colorado River. I will provide detailed classroom instruction before each shoot, and will share my secrets to capturing the elusive "dramatic moment." The magnificent Red Cliffs Lodge is our base for the weekend, with a multimedia classroom, a vineyard, restaurant, and cabins alongside the Colorado River.
I will also be teaching a Canon workshop in Acadia National Park – "Acadia National Park: A Seaside Photography Adventure" – on the weekend of August 6-7. This is one of the most beautiful locations on the East Coast — after Saturday morning's classroom instruction and gear handouts, we will explore coastal landscape images and lighthouse scenes through sunset. Get ready to make true fine art images for your wall! Sunday morning we will spend half a day shooting portraits and action shots of working lobsterman in pictureque Bass Harbor, with instruction emphasis on lighting, composition and getting the most from your models. We return to the classroom Sunday afternoon for Lightroom processing instruction and print making.
The third workshop will be in Aspen on September 24-25, at the height of the high-country foliage season. We will photograph the stunning Maroon Bells mountain range with shimmering yellow aspen trees; and also spend a day shooting cowboys on a cattle ranch. This workshop will be posted soon on the Canon Digital Learning Center website so check back for details soon.