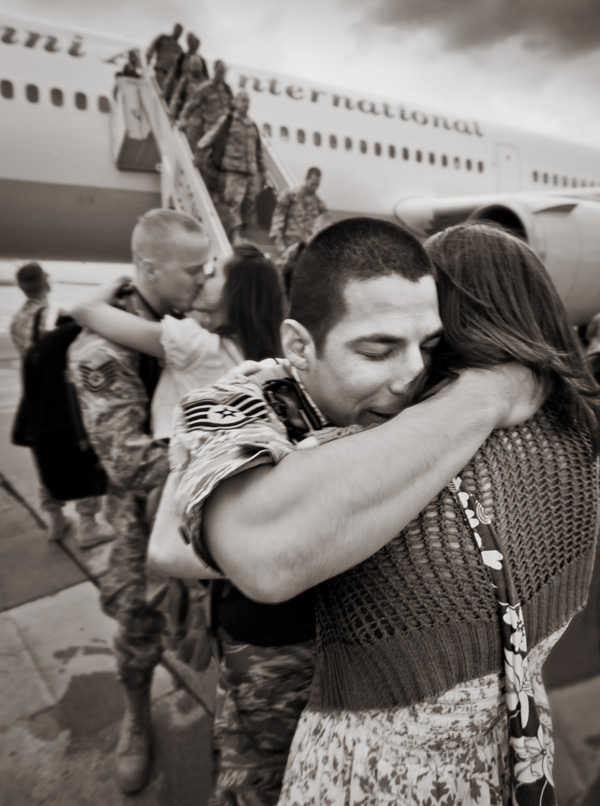 I was very honored to have two images from my year-long project on F-16 fighter pilots recognized in the top 25 images of American Photo Magazine's "Images of the Year" photo contest. My image of Staff Sergeant Joseph Imeraj (foreground) and Technical Sergeant Daniel Bateman of Colorado's Air National Guard 120th Fighter Squadron returning from a tour in Iraq was the contest's Photojournalist Runner-up. This is one of my favorite images, as it was an incredibly powerful experience witnessing 250 airmen welcomed home by a large crowd of loving family and friends. I was wiping tears away while shooting these airmen embracing their loved ones for the first time after a 60-day tour in Iraq. This image was made using a Canon EOS-1Ds Mark III camera and a EF16-35mm f/2.8L II USM lens at 1/25th sec, f/6.3, ISO 400.
The second image of an F-16 fighter pilot flying above two other fighter jets during a training flight in Colorado was the Personal Project Runner-up. I shot this image from the backseat of an F-16D fighter jet using a Canon EOS 5D Mark II camera and a EF15mm f/2.8 Fisheye lens at 1/200th sec, f/5.6, ISO 200.
The images were taken for an assignment on the fighter pilots of the 140th Wing at the Buckley Air Force base in Aurora, Colorado for the July 2010 issue of 5280 magazine.
I am honored to have images place in American Photo Magazine's contest.
One of Canon's prestigious Explorers of Light, Tyler's creative passion is using lenses to tell heartfelt stories. Apple, Adidas, The North Face, Patagonia, Wrangler, Timberland, Cabela's, Stetson, and dozens more have hired him to shoot provocative commercials with wide-angle footage that transports viewers into every scene. Using dynamic lighting and handheld camera work to charge his projects with emotion, Tyler has become one of the most
sought-after commercial directors, photographers, and multimedia lecturers in the nation.