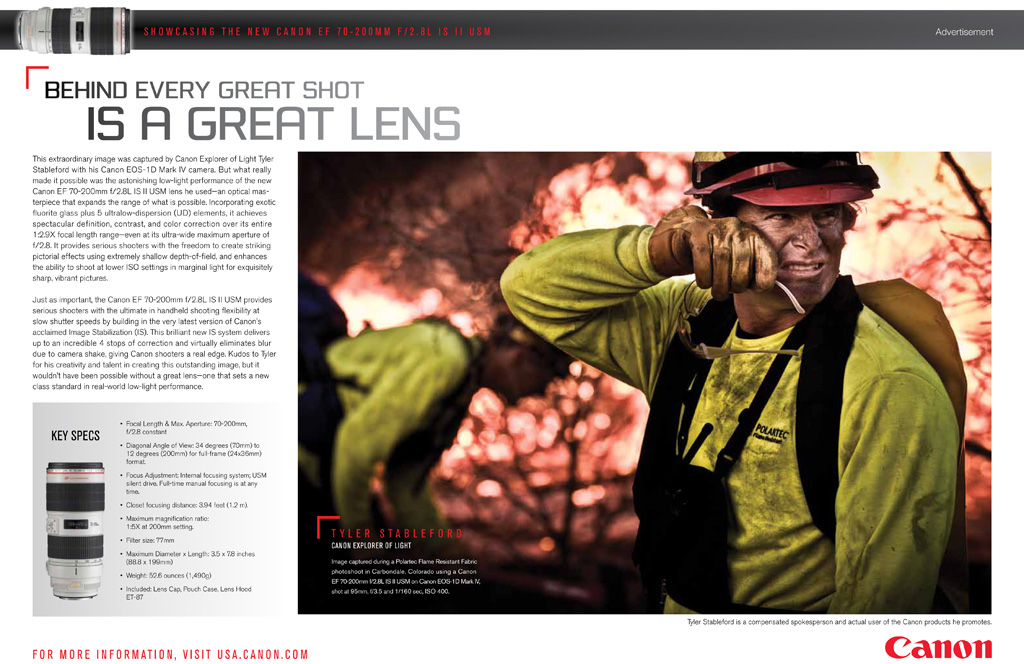 Canon has been advertising this great new telephoto lens and I am very excited Canon decided to use a Polartec Fire Image that I shot this spring with the EF 70-200 f/2.8 IS II USM lens for their ad layout.
This image was part of a Polartec fire ad campaign I shot for Polartec's newest flame-resistant clothing. I worked with models and real-life workers to really put this brand to work, and you can see for yourself how well it performed. I am beyond excited that such a great shoot was turned into an ad for this amazing lens!
I was very impressed with the quality of this lens during the shoot – the lens helped draw in the intensity of the fire behind the subject and compress the scene – I really wanted that dramatic background to show the use of this clothing line, and the lens definitely delivered. It also handled really well in the low light and extreme conditions on this shoot. The 70-200mm is now an essential on all of my photo shoots, and I can not wait to push it to the extreme in my future shoots.
This photo was taken with the Canon EOS-ID Mark IV and EF 7o-200mm f/2.8L IS II USM lens. My setting were at 1/160th of a second with and aperture of f/3.5 and an ISO 400.
One of Canon's prestigious Explorers of Light, Tyler's creative passion is using lenses to tell heartfelt stories. Apple, Adidas, The North Face, Patagonia, Wrangler, Timberland, Cabela's, Stetson, and dozens more have hired him to shoot provocative commercials with wide-angle footage that transports viewers into every scene. Using dynamic lighting and handheld camera work to charge his projects with emotion, Tyler has become one of the most sought-after commercial directors, photographers, and multimedia lecturers in the nation.