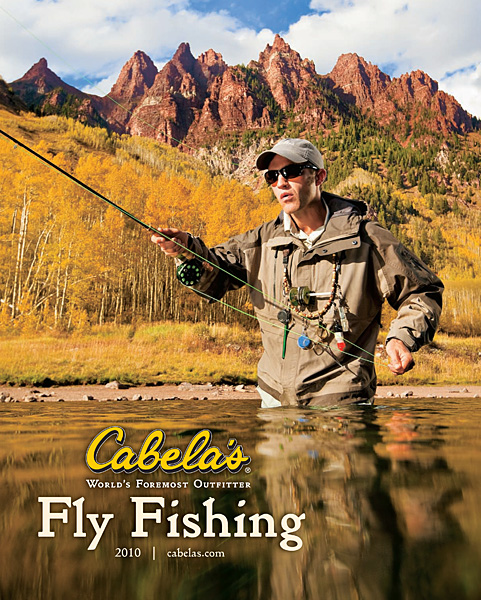 The cover of Cabela's latest fly fishing catalog features my image of fly fishing guide Glenn Melus casting in Maroon Lake. It was great to be working with Glenn again as he is no stranger to modeling for my outdoor Cabela's shoots! A big thanks to him.
We shot on a beautiful fall day at the lake near Aspen, Colorado and the whole crew donned waders in order to shoot at this spot in front of the Sievers Mountain Range. With the sun hitting Glenn on his right side, we added a large reflector behind Glenn to rake light on the left side of his face. I wanted to make sure to catch that warm, dramatic lighting to portray the great Colorado weather conditions. I varied the compositions by using a Ewa-Marine underwater casing and shooting some images partially underwater. What a fun shoot, and I am honored to be able to use some of my own creativity when photographing such a perfect scene like this.
A big thank-you to Jason Brazda from Cabela's for his art direction on location. This particular area is great for those looking to do some fishing and I think that it fits this magazine cover perfectly.
I shot this image with the Canon EOS 5D Mark II and the Canon EF 16-35mm f/2.8L II USM Lens. I had an aperture of f/7.1, a shutter speed of 1/640, and ISO 400.
One of Canon's prestigious Explorers of Light, Tyler's creative passion is using lenses to tell heartfelt stories. Apple, Adidas, The North Face, Patagonia, Wrangler, Timberland, Cabela's, Stetson, and dozens more have hired him to shoot provocative commercials with wide-angle footage that transports viewers into every scene. Using dynamic lighting and handheld camera work to charge his projects with emotion, Tyler has become one of the most sought-after commercial directors, photographers, and multimedia lecturers in the nation.