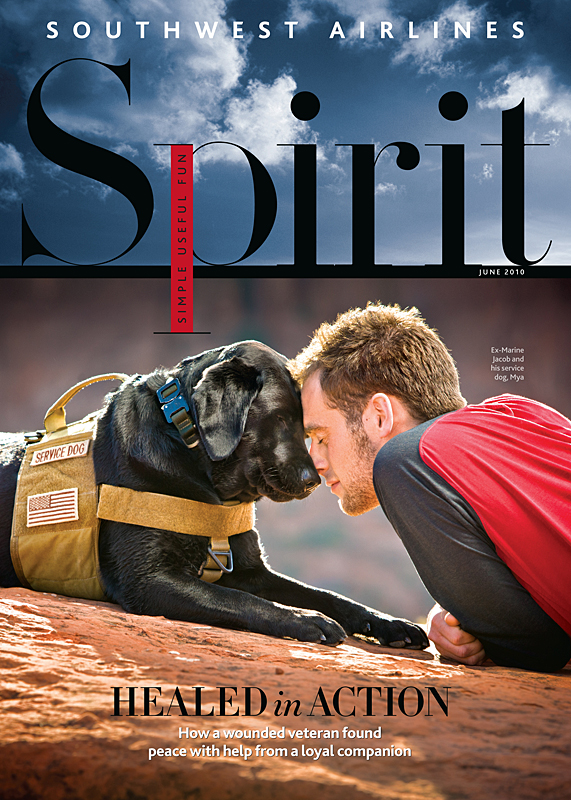 I had the honor of photographing with former Marine Corps medic Jacob Hyde and his dog, Mya, for the touching piece "Healed in Action" in the June issue of Southwest Airlines' Spirit Magazine. The feature, written by Kate Silver, tells of Jacob's harrowing tour of duty in Iraq, his struggles with post tramatic stress disorder, and the prisoner-trained service dog that has helped him heal. This is a timely story, as our country's veterans are suffering record levels of PTSD–an affliction that can often exceed the horrors of a physical wound.
On Memorial Day, I wrote to the marine to thank him for his sacrifices and asked how we might help his fellow veterans who are struggling. Jacob asked that donations be sent to support the service-dog training program Puppies Behind Bars. This program works with prison inmates who train puppies for wounded veterans and first responders. The dogs, raised lovingly over about two years, help both the inmate and give back to society.
For the cover image in St. George, Utah, I shot the scene against a backlit hillside, using a Hensel Lithium Porty 12 strobe and Westcott Octobank for fill on the right side. The photo was taken with the Canon EOS-1Ds Mark III camera and EF 70-200mm f/2.8L IS USM lens, and was shot at 1/200th sec at f/5.6, and an ISO 200.
One of Canon's prestigious Explorers of Light, Tyler's creative passion is using lenses to tell heartfelt stories. Apple, Adidas, The North Face, Patagonia, Wrangler, Timberland, Cabela's, Stetson, and dozens more have hired him to shoot provocative commercials with wide-angle footage that transports viewers into every scene. Using dynamic lighting and handheld camera work to charge his projects with emotion, Tyler has become one of the most sought-after commercial directors, photographers, and multimedia lecturers in the nation.