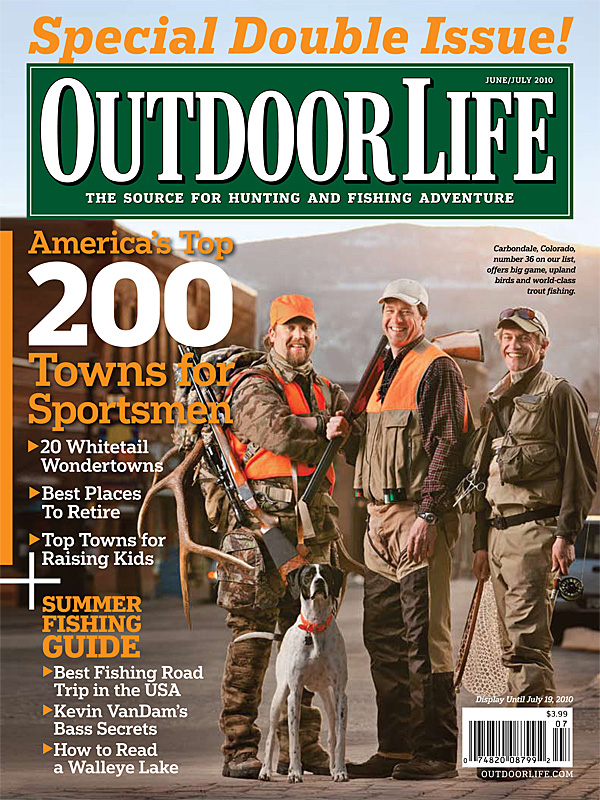 I shot this Outdoor Life cover in my hometown of Carbondale, CO for the magazine's June/July issue of top sportsmen towns. Carbondale was ranked 36th on the list – its placement is well-deserved, and I am happy to live and work somewhere that is regarded so highly by the magazine and sportsmen alike.
To light the models, we used two sidelights with Westcott Octobanks and a small back light. We also had some beautiful morning light streaming in from the mountains behind the models. I wanted to portray the environment where these hunters get out and about, as well as the feel of the town itself.
These models did a great job of representing the sportsman population on the Outdoor Life cover – their enthusiasm was a perfect fit for this shoot, and I had a ton of fun shooting local men whom I know well. The big game hunter in the photo is Steve Fischer, the bird hunter is Will Lamont with his pointer Arlo and the fisherman is Glenn Melus. I have worked a lot with Will in particular – he seems to be a common sight whenever we are in need of a rugged worker, sportsman, or cowboy! Cabela's is one of the many companies that have seen this talent. A big thanks goes to all three of you for helping me complete this cover shoot!
One of Canon's prestigious Explorers of Light, Tyler's creative passion is using lenses to tell heartfelt stories. Apple, Adidas, The North Face, Patagonia, Wrangler, Timberland, Cabela's, Stetson, and dozens more have hired him to shoot provocative commercials with wide-angle footage that transports viewers into every scene. Using dynamic lighting and handheld camera work to charge his projects with emotion, Tyler has become one of the most sought-after commercial directors, photographers, and multimedia lecturers in the nation.