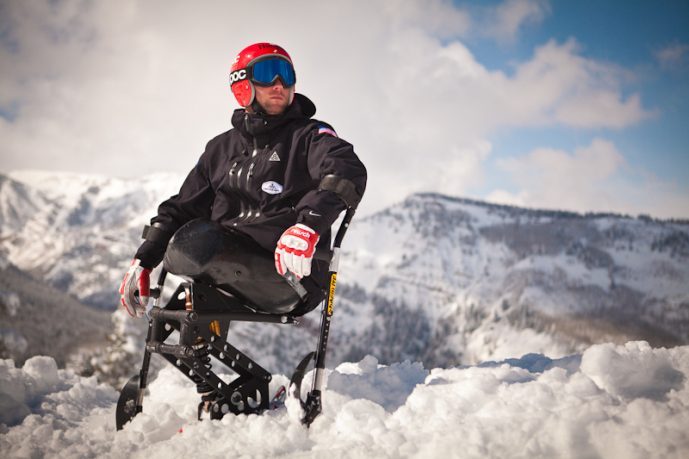 Here is a behind-the-scenes look at my first full-fledged film project, which I am shooting this winter on the Paralympic skier and Iraq war veteran Heath Calhoun. Calhoun lost both of his legs above the knees in a grenade blast. This winter, with the world-class ski coaching of Challenge Aspen, he became the first wounded veteran to join Paralympic downhill ski racing as a sit-skier. The film follows Calhoun through a powerful self-actualization of finding freedom and a new perspective on life.
This 10-minute film will premiere at Colorado's 5 Point Film Festival on Sunday, May 2 and will be hosted on Adobe's website, among other venues. Using Canon's cutting-edge lenses and DSLR bodies like the 1D Mark IV and 5D MarK II, I can create a truly cinematic look with an ultra-portable camera rig that I can ski and hike with – anything to keep up with a Paralympic athlete.
I have been fortunate to have many generous equipment companies step forward to support this Paralympic project. I used Red Rock Micro's video rigs, which provide smooth follow-focus and steady handling, and mounted Marshall Electronic's 7-inch field monitors on top to ensure crisp focus and exposure. I also relied on Zoom Audio's amazingly light and rich H4n field audio recorders and LitePanels' ultra-portable 1X1 Bi-Color and Bi-Focus LED lights. When I needed stronger lights, I used Hensel USA's high-power tungsten lights.
And holding all of our shoot together was a vast array of Manfrotto 535 carbon tripods and 503HDV video heads, Hi-Hats, LCD Mini Balls Heads, Nano Clamps, Magic Arms, as well as Gitzo carbon fiber boom poles. I tried the new GlideTrack for the first time, and was thrilled with the smooth pans and slides I could achieve with just a few seconds of setup time.
We wouldn't have been able to lug this amount of equipment onto the Paralympic ski slopes with our trusty Think Tank Photo bags. The Speed Racer beltpack was great for managing a large array of camera gear and we used the Multimedia Wire Up 20 bag with our field audio equipment for quick and easy use on the fly.
Also instrumental to the project was ace cinematographer Kent Harvey, who mentored me and my assistants through the project. Kent guided us through both the technical and the Paralympic storytelling leaps from shooting stills to making a documentary. I am lucky to have such a talented friend!
Now the creative process of editing begins! I am currently editing the project with the talented Denver editor Dave Wruck, using Adobe Premiere Pro to bring the entire film to life. Please check back in late April for an update on where to view the finished film on Paralympic skier Calhoun! I will also blog again next month about how we made the film, with details on sound capture, unique lens use, editing tricks, etc.