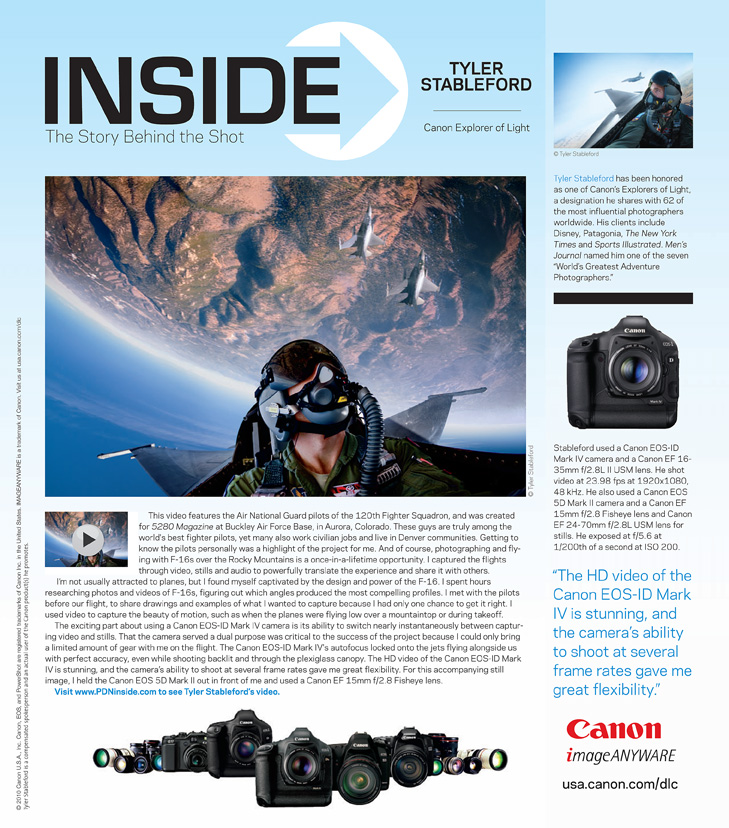 A new Canon ad ran in the March issue of PDN, with photos and video links from my recent assignment shooting with F-16 fighter pilots at the Buckley Air Force base in Aurora, Colorado. This is one of my favorite recent shoots and I am beyond excited for it to be featured not only in a Canon ad, but also shared with the readers of PDN. What a high-energy, high-drama photoshoot!
I used Canon's 5D Mark II and 1D Mark IV camera to capture HD video footage and stills; these lightweight cameras have revolutionized the possibilities for video! It is extremely demanding to shoot while flying in a fast-moving fighter jet, but these cameras made it easy to capture exactly what I wanted to about the experience. Not only did I never have to struggle with the functions of the camera themselves, but the final product of their great technology turned out amazing! I could not ask for a better tool: click here to see exclusive footage from my fighter pilot trailer.
One of Canon's prestigious Explorers of Light, Tyler's creative passion is using lenses to tell heartfelt stories. Apple, Adidas, The North Face, Patagonia, Wrangler, Timberland, Cabela's, Stetson, and dozens more have hired him to shoot provocative commercials with wide-angle footage that transports viewers into every scene. Using dynamic lighting and handheld camera work to charge his projects with emotion, Tyler has become one of the most sought-after commercial directors, photographers, and multimedia lecturers in the nation.