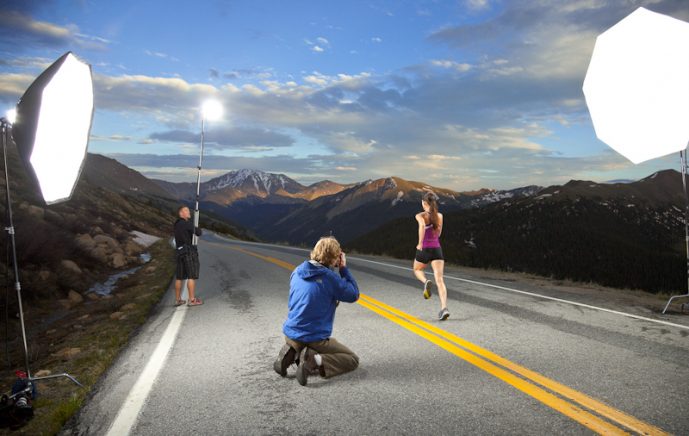 I have an exciting list of workshops and lectures for photographers of all levels coming up this summer and fall, please see below for details!
I will be teaching two weekend photo workshops for Canon in Boulder, CO and Moab, UT. My workshop on "Action Sports Photography" will be held in Boulder on June 5-6. This intensive workshop is geared toward active photographers looking to step up to the next level. Students will photograph real athlete-models on location; I will also provide detailed classroom instruction and image reviews. You will have the chance to shoot trail runners in action in one of the open air parks and rock climbers on Sunday. This two-day field workshop will explore the creative and technical skills needed in both editorial and commercial shooting styles. I will share my secrets for making your images stand out, including lighting, camera angles, and techniques to capture action shots and environmental portraits.
My Moab workshop, "Arches National Park and Spectacular Cowboys", will held on October 2-3. This action-packed workshop in the heart of Utah's canyon country. On Saturday we will explore the magnificent landscapes of Arches National Park, finding unique ways to capture the sandstone monoliths. On Sunday we will shoot action scenes and environmental portraits with authentic cowboys and horses. I will provide detailed classroom instruction before each shoot, and will share his secrets to capturing the elusive "dramatic moment." The magnificent Red Cliffs Lodge is our base for the weekend, with a multimedia classroom, a vineyard, restaurant, and cabins alongside the Colorado River.
These workshops are sponsored by Canon Digital Learning Center; you can go to their website to register and to find out more information.
SERIES OF LECTURES
I have several multimedia presentations scheduled this year, generously sponsored by Canon. At each of these talks, I will share stories, photos and films from my recent assignments, from exploring rare ice caves to documenting the dangerous lives of underground coal miners. I will present my secrets to capturing the elusive "dramatic moment" and to earning a living in the world of freelance photography. I will also share stories from my latest assignment, flying with F-16 fighter pilots.
-Sunday, April 18 at the Photographic Federation of Long Island in Brentwood, NY.
-Thursday, May 13 at Pro Photo Supply in Portland, OR
-Tuesday, June 8 at the New England Chapter of the ASMP in Boston, MA. Check out these venues' websites for more information.
And just a quick reminder, the PhotoPlus Expo is on October 28-30. I will be speaking for Canon, Sandisk and Adobe on DSLR video, SpeedLite techniques, and Lightroom workflows. Check back this fall for the complete schedule!