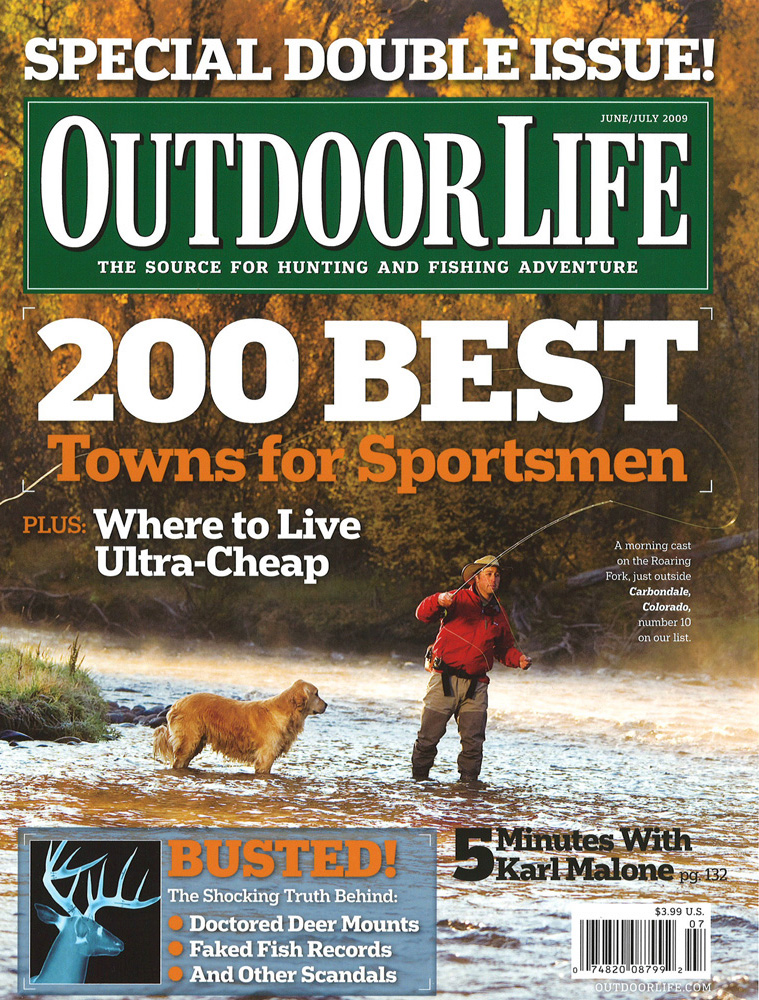 My hometown of Carbondale, Colorado is featured on the cover and as a two-page spread in the latest Outdoor Life magazine, named by the magazine as one of the country's top 10 sportsmen towns. Its placement is well-deserved, and I am happy to live and work somewhere that is regarded so highly by the magazine and sportsmen alike.
For this assignment, I shot fly-fishing guide Mike Shook and his dog Gordon on the Roaring Fork River during a brisk, beautiful October dawn. Mike did a great job of representing the sportsman population on the Outdoor Life cover. Cabela's is one of the many companies that have seen this talent. His enthusiasm was a perfect fit for this shoot, and I had a ton of fun shooting someone whom I know well. I could not have done it without you, Mike! Thanks for sharing your passion with me.
I wanted to portray the environment where local sportsmen get out and about, as well as the feel of the town itself. The river is a perfect spot and shows the beauty of a perfect fall day in western Colorado – who wouldn't want to spend all of their mornings casting like Mike in one of the great sportsmen towns?
Thank you to Justin Appenzeller for the fun shoot! Your artistic direction was greatly appreciated and you helped create a great-looking cover.
One of Canon's prestigious Explorers of Light, Tyler's creative passion is using lenses to tell heartfelt stories. Apple, Adidas, The North Face, Patagonia, Wrangler, Timberland, Cabela's, Stetson, and dozens more have hired him to shoot provocative commercials with wide-angle
footage that transports viewers into every scene. Using dynamic lighting and handheld camera work to charge his projects with emotion, Tyler has become one of the most sought-after commercial directors, photographers, and multimedia lecturers in the nation.