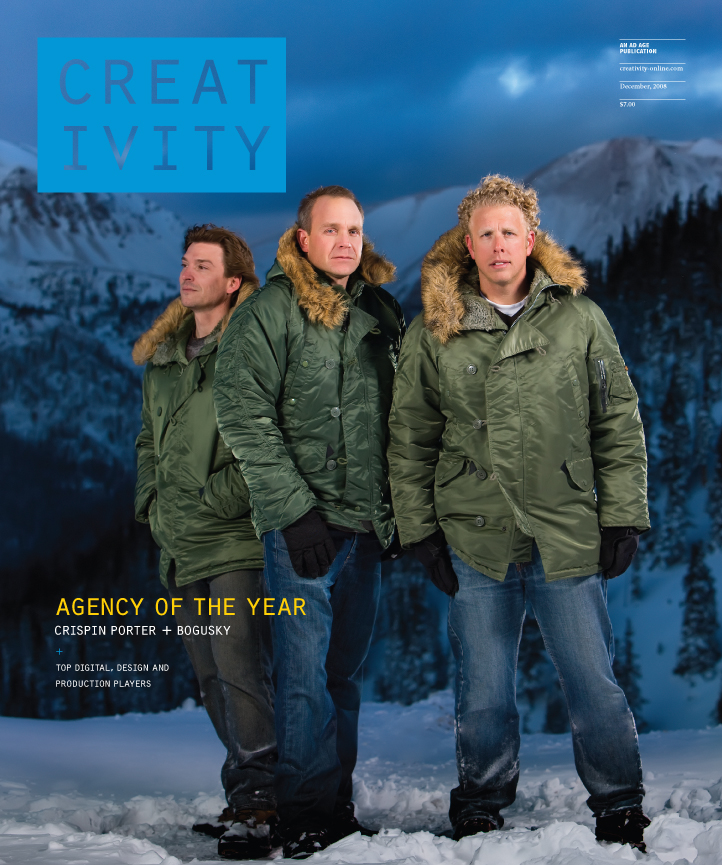 Creativity Magazine's December, 2008 "Ad Agency of the Year" issue featured my cover image (and sidecar outtake) of the brilliant execs of Boulder-based Crispin, Porter + Bogusky. I had so much fun photographing a company that I often work with. These gentlemen often help me edit and retouch my projects, and it was a great time having them in front of the camera for a change.
A sincere thank-you to Teressa Iezzi at Creativity Magazine and Steve Sapka at CP+B for their art direction and production. This was a great shoot and proved to come with some great recommendations for their vision with this project. I think that the final product turned out great! Even in the cold conditions and long day, the shoot went smoothly and was a memorable time. Thanks you two!
Kudos to Alex Bogusky, Rob Reilly and Andrew Keller for enduring the bone-chilling Rocky Mountain temperatures at 11,000 feet with grace! (I had only a small screaming fit when my frozen hands painfully thawed out…) Like I said, I have worked a lot with this group in the office, but I finally got a chance to get them out and on the other side of the camera! I had a ton of fun, even in the cold. Congratulations on the feature! It is an extremely well deserved spotlight, going to a group I know well.
One of Canon's prestigious Explorers of Light, Tyler's creative passion is using lenses to tell heartfelt stories. Apple, Adidas, The North Face, Patagonia, Wrangler, Timberland, Cabela's, Stetson, and dozens more have hired him to shoot provocative commercials with wide-angle
footage that transports viewers into every scene. Using dynamic lighting and handheld camera work to charge his projects with emotion, Tyler has become one of the most sought-after commercial directors, photographers, and multimedia lecturers in the nation.