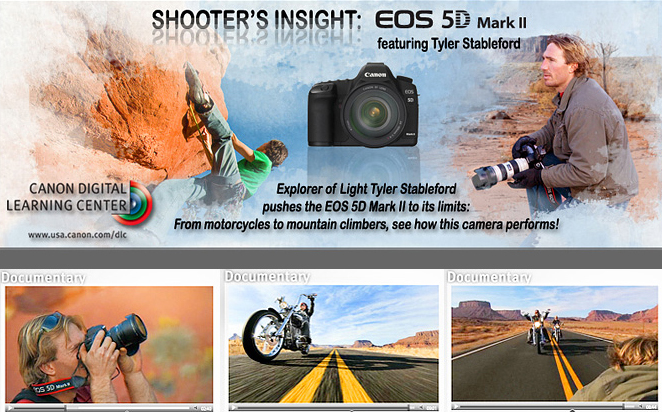 Check out this new video campaign — here is my first time being on the 'wrong' side of the lens! Canon produced an instructional video of me using the new EOS 5D Mark II stills-and-video camera. We shot motorcycling and rock climbing at the Fisher Towers near Moab, Utah, and captured some beautiful scenes with this powerful new camera — it was a great time!
I have nothing but good things to say about the new body. We were constantly moving, shooting, and adjusting all sorts of elements as I shot this project, and I have to say, the camera kept up well. I wanted to go for dramatic lighting and movement throughout this campaign. Even through changing lenses and challenging the camera to account for a high dynamic range, the photos turned out great! I shot some great adventure this week, and I could not be happier to have helped create a helpful video campaign to instruct new users.
It was an honor working with Chuck Westfall of Canon and the talented camera crew of the Phoenix Group. Check out the video on the Digital Learning Center here. Viewers can check out my workflow in the field, and get a good look at how the 5D Mark II handles both stills and video. Make sure to get a good look at how accessible the camera's settings are!
One of Canon's prestigious Explorers of Light, Tyler's creative passion is using lenses to tell heartfelt stories. Apple, Adidas, The North Face, Patagonia, Wrangler, Timberland, Cabela's, Stetson, and dozens more have hired him to shoot provocative commercials with wide-angle footage that transports viewers into every scene. Using dynamic lighting and handheld camera work to charge his projects with emotion, Tyler has become one of the most sought-after commercial directors, photographers, and multimedia lecturers in the nation.