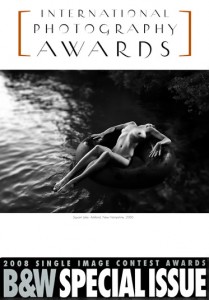 This fine art nude of Anne at Little Squam Lake in New Hampshire won a double 2008 photo award, from both the International Photography Awards and Black & White Magazine.
Black & White Magazine is a well-known publication, recognized by the art community for its encouragement and promotion of an old media, as well as the continuing use of black and white in the digital age. Tyler won in one of 36 categories, placing in the Nude/Body category.
International Photography Awards hosts an annual photo competition, offering awards to photographers of all ages and experience levels. Tyler took third place in the Professional Fine Art – Nude category, ranking among over a hundred other photographers. Little Squam Lake was one of thousands of photographs entered in this contest, and it earned a well-deserved spot among the top. This is yet another publication that is highly regarded among photographers.
The image was taken as a part of a fun, fine-art photoshoot. It emulates depth and intensity, which gives it that award winning look! Little Squam Lake deviates from Tyler's rugged, advertising style and proves him to be a well-rounded artist.
This double photo award is one of many. Tyler has been recognized among the "Top 200 Ad Photographers Worldwide" and has received an Emmy, multiple Telly awards, and many other magazine recognitions.
Awards with two of photography's renown publications is an honor – way to go, Tyler!
One of Canon's prestigious Explorers of Light, Tyler's creative passion is using lenses to tell heartfelt stories. Apple, Adidas, The North Face, Patagonia, Wrangler, Timberland, Cabela's, Stetson, and dozens more have hired him to shoot provocative commercials with wide-angle
footage that transports viewers into every scene. Using dynamic lighting and handheld camera work to charge his projects with emotion, Tyler has become one of the most sought-after commercial directors, photographers, and multimedia lecturers in the nation.